Chicken fillet with pasta and bell pepper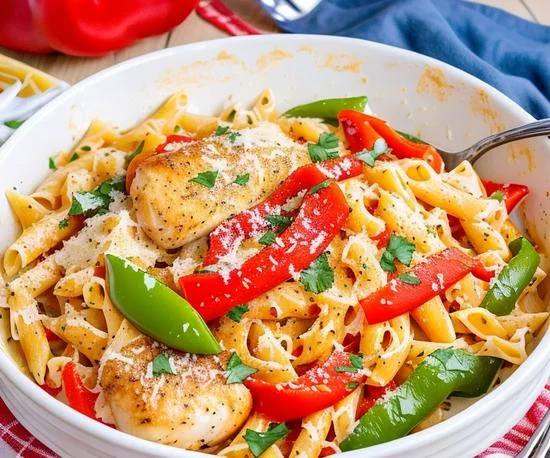 This dish combines tender chicken breast, al dente pasta and sweet bell pepper. Pan-frying gives the chicken a delicious crust. Garlic and oregano add aroma while the pepper provides a pop of color and crunch. The pasta soaks up the tasty chicken juices. The result is a flavorful and hearty meal that's perfect for dinner. It can be prepared in under 30 minutes.
Ingredients
400g chicken breast fillets, 
200g pasta (penne or fusilli work best), 
1 bell pepper, 
2 tbsp olive oil, 
2 cloves garlic, 
1/2 tsp dried oregano, 
Salt and pepper to taste
25m
cooking
time
4
number
servings

Recipe Difficulty: Easy
How to Make Chicken fillet with pasta and bell pepper
Cook the pasta according to package directions, usually 6-8 minutes. Rinse with cold water and drain. 
Cut the chicken breast into bite-sized pieces. Season with salt and pepper. 
Heat the olive oil in a skillet over medium heat. Cook the chicken for 5-7 minutes until golden brown. 
Add the minced or crushed garlic, cook for 1 more minute. 
Add the diced bell pepper, cook for 3-4 minutes. 
Add the cooked pasta and dried oregano. Mix well and cook for 2-3 more minutes. 
Remove from heat, transfer to a plate. You can top with grated cheese before serving.
Enjoy your meal! Let me know how it turns out :)
Nutrition Facts (per serving)
Calories: 450 kcal 
Protein: 35 g
Fat: 14 g 
Carbs: 45 g

0

16 Jul