Apple Mulled Wine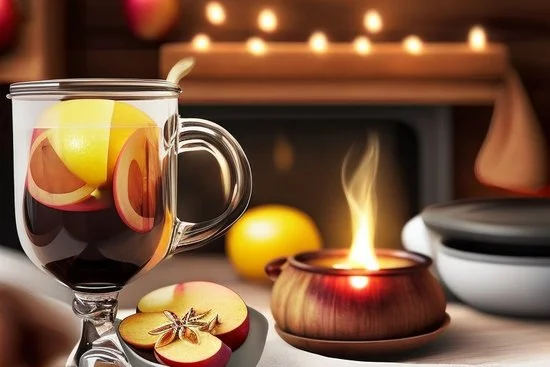 Discover the magic of making homemade apple mulled wine with our step-by-step recipe. The combination of white wine, apple juice, and spices creates a unique taste that will warm you up on cold days.
Ingredients
Dry white wine - 750 ml, 
Apple juice - 250 ml, 
Cinnamon - 2 sticks, 
Cloves - 5 pieces, 
Star anise - 2 pieces, 
Honey - 2 tablespoons, 
Lemon - 1 piece, 
Oranges - 2 pieces, 
Apples - 2 pieces
30m
cooking
time
6
number
servings

Recipe Difficulty: Easy
How to Make Apple Mulled Wine
Preparation of ingredients. Wash the fruits. Slice the apples into thin slices, and the oranges and lemon into rounds.
Preparation of mulled wine. Pour the wine and apple juice into a large saucepan, add the sliced fruits, cinnamon sticks, cloves, and star anise.
Cooking mulled wine. Put the saucepan on low heat and bring to a boil. It's important not to let it boil vigorously, otherwise the alcohol will evaporate.
Adding honey. When the mulled wine starts to boil, add the honey and stir well.
Infusion of mulled wine. Reduce the heat to a minimum and let the mulled wine infuse under the lid for 10-15 minutes.
Serving mulled wine. Strain the ready mulled wine through a sieve and pour into preheated glasses.
Enjoy your meal!
Nutrition Facts (per serving)
Calories: 200-250 kcal 
Protein: 0.5 g 
Fat: 0.2 g 
Carbohydrates: 20-30 g
Please note that these values are approximate and can vary depending on the ingredients used and their quantities.

0

27 May