Quick and Easy Chicken Noodle Soup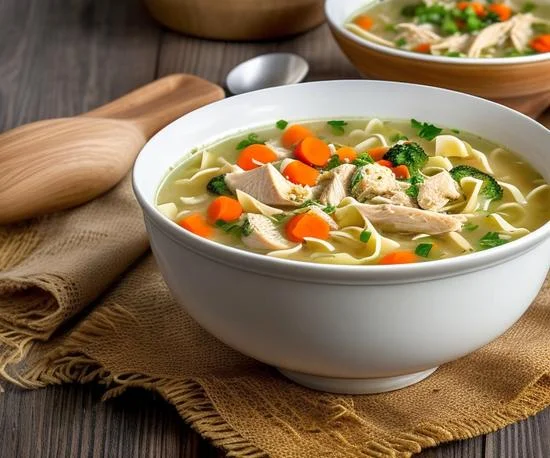 This chicken noodle soup recipe is the perfect solution for a family dinner. The dish is quick and easy to prepare, and the result will delight you with its rich taste and aroma. You will need simple ingredients like chicken breast, noodles, carrot, onion, celery, and garlic.
Ingredients
Chicken breast - 500 g, 
Noodles - 200 g, 
Carrot - 1 piece, 
Onion - 1 piece, 
Celery - 2 stalks, 
Garlic - 2 cloves, 
Salt - to taste, 
Black pepper - to taste, 
Water - 2 L, 
Fresh herbs (dill, parsley) - to taste
40m
cooking
time
6
number
servings

Recipe Difficulty: Easy
How to Make Quick and Easy Chicken Noodle Soup
Start by cutting the chicken breast into small pieces. Put the chicken in a large pot, fill it with water, and set it over medium heat.
While the chicken is cooking, chop the carrot, onion, celery, and garlic. Add the vegetables to the pot when the chicken is almost done.
Add salt and pepper to taste. Simmer the soup over low heat for 15-20 minutes.
Meanwhile, cook the noodles in a separate pot according to the instructions on the package.
When the noodles are done, add them to the soup. Stir and let the soup simmer for another 5-10 minutes on low heat.
Before serving, add the chopped herbs to the soup.
Enjoy your meal!
Nutrition Facts (per serving)
Calories: 350 kcal 
Protein: 25 g 
Fat: 10 g 
Carbohydrates: 35 g

0

23 Jun