Bruschetta Chicken Pasta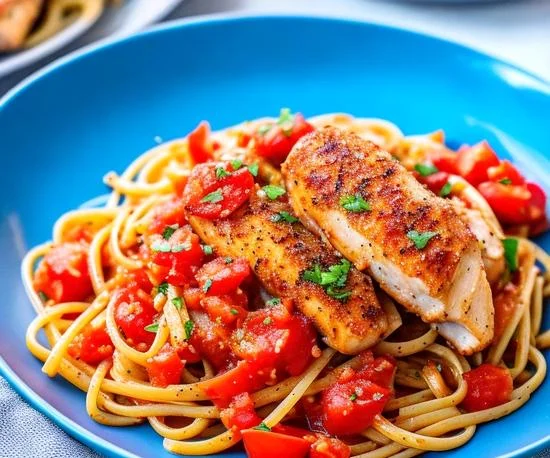 Bruschetta Chicken Pasta is a delicious and hearty dish that combines the best elements of Italian cuisine. Chicken cooked with garlic and herbs is paired with pasta, generously covered with a sauce made from fresh tomatoes. The dish is served with crispy baguette, sprinkled with Parmesan cheese and fresh basil.
Ingredients
2 chicken breasts, 
2 cloves of garlic, 
2 tablespoons of olive oil, 
1 teaspoon of dried basil, 
1 teaspoon of dried oregano, 
Salt and pepper to taste, 
4 tomatoes, 
1 tablespoon of balsamic vinegar, 
1 tablespoon of sugar, 
1 loaf of baguette, 
200g of pasta (spaghetti or penne), 
50g of Parmesan cheese, 
A few fresh basil leaves for garnish
40m
cooking
time
4
number
servings

Recipe Difficulty: Medium
How to Make Bruschetta Chicken Pasta
Start with preparing the chicken. Heat a pan with olive oil. Add minced garlic and sauté it until golden.
Add the chicken breasts, season them with salt, pepper, dried basil, and oregano. Sauté the chicken until cooked, then remove it to a plate and set aside.
Dice the tomatoes into small cubes. In the same pan where you cooked the chicken, add the tomatoes, balsamic vinegar, and sugar. Cook on low heat until the tomatoes become soft and form a sauce.
In the meantime, cook the pasta according to the instructions on the package.
Slice the baguette into thin slices and toast them in a toaster or oven.
When the pasta is ready, drain the water and add the pasta to the pan with the tomatoes. Mix well so that the pasta is covered with the sauce.
Slice the chicken into thin slices and add it to the pan. Stir everything together so that the chicken is covered with the sauce.
Serve the pasta with chicken, garnishing it with thin slices of toasted baguette, sprinkled with grated Parmesan cheese, and fresh basil leaves.
Enjoy your meal!
Nutrition Facts (per serving)
Calories: 550 kcal 
Proteins: 35 g 
Fats: 20 g 
Carbohydrates: 55 g

0

30 Jun