Ground Beef Stroganoff Noodles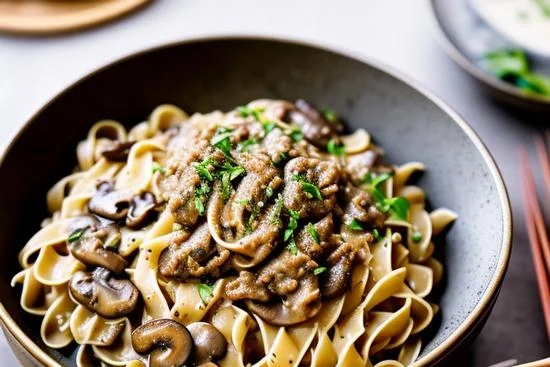 Try this detailed step-by-step recipe for Ground Beef Stroganoff Noodles. Juicy meat, fragrant mushrooms, and creamy sauce perfectly combined with wide noodles. This recipe is sure to become a favorite in your home!
Ingredients
500g of beef (the fillet part is best), 
2 tablespoons of oil, 
1 large onion, 
2 cloves of garlic, 
250g of mushrooms (champignons or white mushrooms), 
1 tablespoon of flour, 
1 cup of beef broth, 
1 cup of sour cream or heavy cream, 
Salt and pepper to taste, 
300g of noodles (wide noodles are best), 
Greens for serving (parsley or dill)
40m
cooking
time
4
number
servings

Recipe Difficulty: Medium
How to Make Ground Beef Stroganoff Noodles
Cut the beef into thin strips. Salt and pepper it.
Heat a pan with oil and fry the beef until golden brown. Remove the meat from the pan.
In the same pan, fry the chopped onion and garlic until soft.
Add the chopped mushrooms and fry until they are golden.
Sprinkle the vegetables with flour and mix well.
Slowly pour in the broth, stirring constantly to avoid lumps.
Return the meat to the pan, add sour cream or cream, mix and let it simmer on low heat for 10-15 minutes.
In the meantime, cook the noodles according to the instructions on the package.
Mix the cooked noodles with the stroganoff and serve, sprinkled with greens.
Enjoy your meal!
Nutrition Facts (per serving)
Calories: 550 
Protein: 35g 
Fat: 30g 
Carbohydrates: 40g
Please note that these values are approximate and can vary depending on the exact ingredients used in the recipe.

0

23 May