Chicken and Mozzarella Pasta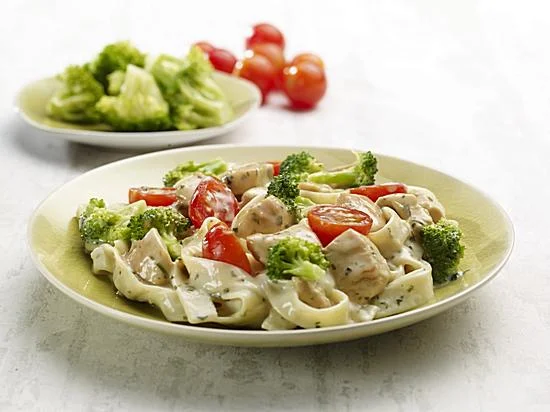 Explore a step-by-step recipe for delicious chicken and mozzarella pasta. This easy and detailed recipe will guide you in preparing a flavorful and satisfying dish. With ingredients like olive oil, juicy chicken pieces, aromatic spices, tomato paste, and melted mozzarella, this pasta creates a delightful combination. Follow along each step to learn how to make this dish and treat yourself and your loved ones to a tasty and nourishing chicken and mozzarella pasta.
Ingredients
250g pasta (spaghetti, farfalle, or any other type), 
2 chicken breasts, cut into pieces, 
2 tablespoons olive oil, 
3-4 cloves of garlic, minced, 
1 red chili pepper, minced (optional), 
1 tablespoon dried basil, 
1 tablespoon dried oregano, 
400g tomato paste, 
200g mozzarella, cut into cubes, 
Salt and pepper to taste, 
Fresh parsley or basil for garnish
40m
cooking
time
4
number
servings

Recipe Difficulty: Medium
How to Make Chicken and Mozzarella Pasta
Step 1: Cook the pasta
In a large pot, cook the pasta according to the instructions on the package until al dente (approximately 1-2 minutes less than the recommended cooking time).
Drain the pasta in a colander to remove excess water and set aside.
Step 2: Sauté the chicken
Heat olive oil in a large skillet over medium heat.
Add the chicken pieces and cook them until golden brown and fully cooked.
Remove the chicken from the skillet and set aside.
Step 3: Prepare the sauce
In the same skillet, add the minced garlic and red chili pepper (if using).
Sauté for 1-2 minutes until fragrant.
Then, add the dried basil and oregano, and sauté for another minute.
Step 4: Add the tomato paste
Add the tomato paste to the skillet with garlic, chili pepper, and spices.
Stir well and cook for 2-3 minutes until the sauce becomes thick and flavorful.
Step 5: Return the chicken to the sauce
Return the cooked chicken to the skillet with the sauce.
Mix well to ensure the chicken is coated with the sauce and cook for an additional 2-3 minutes to heat through.
Step 6: Add the pasta and mozzarella
Add the cooked pasta to the skillet with the sauce and chicken.
Mix thoroughly to evenly combine the pasta with the sauce.
Then, add the mozzarella cubes and continue cooking over medium heat, stirring, until the mozzarella melts and becomes creamy and gooey.
Step 7: Serve and garnish
Transfer the chicken and mozzarella pasta to plates.
Season with salt and pepper to taste.
If desired, garnish with fresh parsley or basil.
Done! Your chicken and mozzarella pasta is ready to be served. Enjoy your meal!
Nutrition Facts (per serving)
The nutritional values of chicken and mozzarella pasta can vary depending on the specific recipe and ingredients used. However, here are approximate values per serving (assuming the recipe yields 4 servings):
- Calories: around 400-500 kcal 
- Protein: around 25-30 g 
- Fat: around 15-20 g 
- Carbohydrates: around 40-50 g 
- Fiber: around 4-6 g
Please note that these values are approximate and can vary based on the specific ingredients and portions used in your recipe.

0

17 May