Lamb Kchuch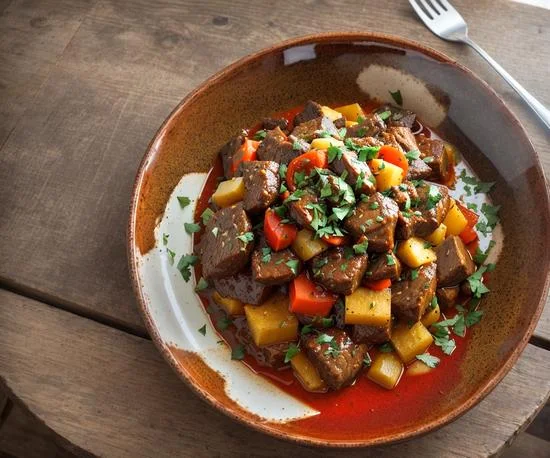 Kchuch is a delicious and hearty dish traditionally made in the Caucasus from lamb. The dish turns out to be flavorful and tender due to the long stewing of the meat. The addition of onions, garlic, and cilantro gives it a special taste and aroma. This recipe explains in detail how to prepare kchuch at home, step by step. Give it a try, and you won't regret it!
Ingredients
Lamb - 1 kg, 
Onion - 3-4 pcs., 
Garlic - 3-4 cloves, 
Salt - to taste, 
Black pepper - to taste, 
Cilantro - 1 bunch, 
Water - 1.5 l, 
Potatoes - 4-5 pcs. (optional)
2h 0m
cooking
time
6
number
servings

Recipe Difficulty: Medium
How to Make Lamb Kchuch
Cut the lamb into small pieces, approximately 3x3 cm.
Coarsely chop the onions and finely chop the garlic.
Heat a little oil in a pan and fry the lamb until golden brown.
Add the onions and garlic, continue frying for another 5-7 minutes.
Once the onions become translucent, add salt and pepper, pour in water and simmer on low heat for about 1.5-2 hours.
If you decided to add potatoes, cut them into large pieces and add them to the pot 30 minutes before the dish is ready.
Add finely chopped cilantro 5 minutes before the dish is ready.
Serve the kchuch hot, garnished with herbs.
Enjoy your meal!
Nutrition Facts (per serving)
Calories: 450 kcal 
Proteins: 35 g 
Fats: 30 g 
Carbohydrates: 15 g

0

08 Jul