Penne alla Vodka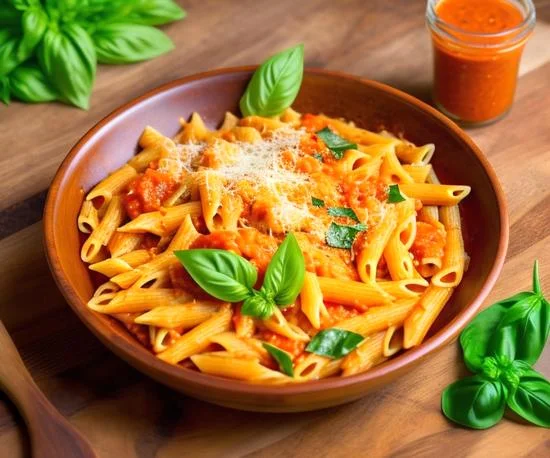 Penne alla Vodka is a classic Italian dish that combines delicious penne pasta, a tomato and cream sauce, and a hint of vodka. This recipe provides a detailed guide on how to prepare this dish at home, so you can enjoy authentic Italian pasta right in your kitchen.
Ingredients
500g penne pasta, 
1 tablespoon olive oil, 
1 onion, finely chopped, 
2 cloves garlic, minced, 
1/2 cup vodka, 
1 can (400g) tomato sauce, 
1/2 cup cream, 
Salt and freshly ground black pepper to taste, 
1/2 cup grated Parmesan cheese, 
A few fresh basil leaves for garnish
30m
cooking
time
4
number
servings

Recipe Difficulty: Medium
How to Make Penne alla Vodka
In a large pot, bring water to a boil, add salt and the pasta. Cook the pasta until al dente (it should still have a little firmness in the middle), following the instructions on the package. When the pasta is ready, drain the water, reserving a bit of the pasta water.
While the pasta is cooking, heat the olive oil in a large skillet over medium heat. Add the onion and garlic, and sauté until they become translucent and fragrant.
Pour the vodka into the skillet, increase the heat, and let the vodka boil for a few minutes to allow some of the alcohol to evaporate.
Add the tomato sauce to the skillet, reduce the heat to medium, and let the sauce simmer for about 10 minutes.
Stir in the cream into the skillet, season with salt and pepper to taste, then let it simmer for another 5 minutes.
Add the pasta to the skillet and mix thoroughly to ensure the pasta is fully coated with the sauce.
Serve the pasta, sprinkling the grated Parmesan on top and garnishing with basil leaves.
Enjoy your meal!
Nutrition Facts (per serving)
Calories: 600 kcal 
Protein: 20 g 
Fat: 25 g 
Carbohydrates: 70 g

0

23 Jun