Classic Shashlik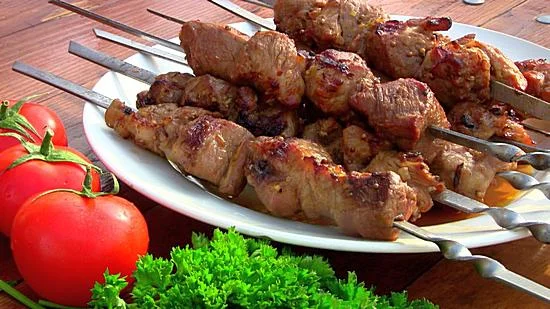 Classic Shashlik is a traditional dish cooked over an open fire. Our detailed step-by-step recipe will guide you to make the perfect shashlik from pork, lamb, or chicken. The meat is marinated in a special marinade, then skewered and cooked to a golden color.
Ingredients
Pork (or lamb, chicken) - 1 kg, 
Onion - 3-4 pcs., 
Salt - to taste, 
Black pepper - to taste, 
Vinegar (or lemon juice) - 3 tbsp., 
Water - 1 cup, 
Vegetable oil - 2 tbsp., 
Garlic - 3-4 cloves (optional)
6h 0m
cooking
time
6
number
servings

Recipe Difficulty: Medium
How to Make Classic Shashlik
Meat preparation: The meat needs to be cut into pieces approximately 5x5 cm. If you're using chicken, you can leave the pieces a bit larger so they don't dry out on the fire.
Marinade preparation: The onion needs to be cut into rings or half rings. In a large bowl, mix the onion, salt, pepper, vinegar, water, and vegetable oil. If you're using garlic, it should be passed through a press and added to the marinade.
Marinating the meat: Add the meat to the bowl with the marinade and mix well so that each piece of meat is covered with the marinade. Then cover the bowl with cling film and leave it in the refrigerator overnight (or at least for 3-4 hours).
Skewering the meat: When the meat is well marinated, it needs to be skewered. Try to skewer the pieces of meat as tightly as possible so they don't dry out on the fire.
Cooking the shashlik: Light the coals on the grill and wait until they are covered with white ash. Then place the skewers with the meat over the coals. Cook the shashlik, turning it periodically, until the meat becomes golden brown and is cooked inside.
Serving: The shashlik is served hot, right after cooking. It pairs perfectly with fresh vegetables, lavash (flatbread), and sauces like satsivi or adjika. It can also be served with potatoes baked on the coals or with rice. Don't forget about refreshing drinks!
Enjoy your meal!
Remember, it's important to observe safety measures when working with open fire. Make sure you have means to extinguish a fire and never leave the fire unattended.
Nutrition Facts (per serving)
Calories: 350 kcal 
Protein: 26 g 
Fat: 25 g 
Carbohydrates: 5 g 
Fiber: 1 g 
Sugar: 2 g

0

26 Jun