Chili Garlic Shrimp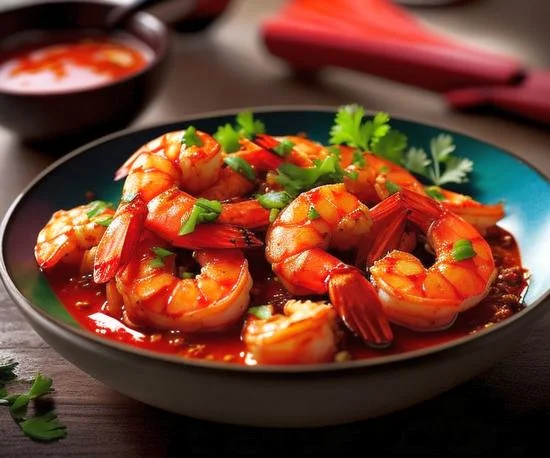 This Chili Garlic Shrimp recipe is the perfect dish for seafood and spicy lovers. Shrimp marinated in a sauce of garlic, chili, soy sauce, and lemon juice, then fried to a golden color. The dish is served hot, sprinkled with greens. It's a simple and delicious dish that can be prepared at home in a short time.
Ingredients
Shrimp - 500g, 
Garlic - 6 cloves, 
Red chili - 2 pcs., 
Soy sauce - 2 tablespoons, 
Sugar - 1 teaspoon, 
Lemon juice - 2 tablespoons, 
Corn oil - 2 tablespoons, 
Salt - to taste, 
Greens for garnish
35m
cooking
time
4
number
servings

Recipe Difficulty: Easy
How to Make Chili Garlic Shrimp
Preparation of ingredients: Clean the shrimp, leaving the tails for convenience. Peel and finely chop the garlic. Chop the red chili.
Preparation of the marinade: In a bowl, mix the soy sauce, sugar, lemon juice. Add the chopped garlic and chili, mix well.
Marinating the shrimp: Put the shrimp in the marinade, stir so that they are fully covered with the marinade. Leave for 15-30 minutes.
Frying the shrimp: Heat the corn oil in a pan over medium heat. Add the shrimp along with the marinade and fry, turning occasionally, until they turn pink and become translucent, this will take about 4-5 minutes.
Serving: Serve the chili garlic shrimp hot, sprinkled with greens of your choice.
Enjoy your meal!
Nutrition Facts (per serving)
Calories: 210 kcal 
Protein: 24 g 
Fat: 7 g 
Carbohydrates: 9 g

0

04 Jul