Seafood Risotto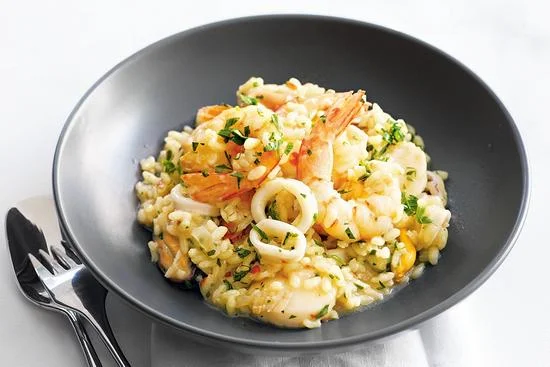 This article provides a recipe for Seafood Risotto, a classic Italian dish that is both delicious and easy to prepare. The recipe includes ingredients such as mixed seafood, arborio or carnaroli rice, white wine, Parmesan cheese, and lemon juice. The instructions are easy to follow, making this dish accessible to both novice and experienced cooks. If you're looking for a flavorful and satisfying meal to add to your recipe collection, this Seafood Risotto recipe is definitely worth trying!
Ingredients
1 liter of chicken broth,
500 g of mixed seafood (shrimp, mussels, squid),
2 tbsp of olive oil,
1 onion, finely chopped,
2 cups of arborio or carnaroli rice,
1 cup of white wine,
1/2 cup of grated Parmesan cheese,
2 tbsp of butter,
2 tbsp of parsley, finely chopped,
2 tbsp of lemon juice,
Salt and pepper to taste
50m
cooking
time
4
number
servings

Recipe Difficulty: Medium
How to Make Seafood Risotto
In a large skillet, heat the olive oil over medium heat. Add the onion and sauté until softened, about 5 minutes.
Add the mixed seafood to the skillet and cook until golden brown, about 3-5 minutes. Remove the seafood from the skillet and set it aside.
Add the rice to the same skillet and sauté, stirring, for about 1-2 minutes until the rice becomes translucent.
Add the white wine to the skillet and cook, stirring, until the wine has evaporated, about 3-5 minutes.
Gradually add the chicken broth to the skillet, one cup at a time, stirring constantly, until the liquid has been absorbed by the rice, about 20 minutes.
When the rice is tender, add the butter to the skillet and stir.
Add the grated Parmesan cheese, parsley, and lemon juice to the skillet and stir.
Add the cooked seafood back to the skillet and stir.
Serve the risotto garnished with fresh herbs and a slice of lemon.
Enjoy your meal!
Nutrition Facts (per serving)
Below are approximate values of the nutritional information per serving of Seafood Risotto (out of 4 servings), assuming the use of the specified ingredients and portion sizes:
 Calories: 533 kcal
 Protein: 21 g
 Fat: 14 g
 Carbohydrates: 77 g
 Fiber: 3 g
 Sugar: 3 g
 Cholesterol: 81 mg
 Sodium: 764 mg
However, these values may vary slightly depending on the specific ingredients and amounts used in preparation.

0

05 May