Traditional Filipino Lumpia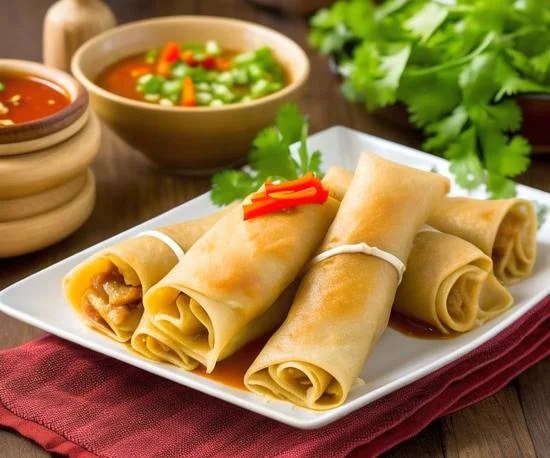 Lumpia is a traditional Filipino dish similar to familiar crepes or rolls. Inside the thin rice wrapper is a juicy filling of meat and vegetables. This dish is served hot and pairs perfectly with sweet chili sauce. Try making Traditional Filipino Lumpia with our step-by-step recipe!
Ingredients
500g of beef or pork, finely chopped, 
2 carrots, finely chopped, 
2 tablespoons of soy sauce, 
1 large onion, finely chopped, 
4 cloves of garlic, minced, 
1 tablespoon of cooking oil, 
1 teaspoon of black pepper, 
1 teaspoon of salt, 
30 Lumpia wrappers (can be substituted with rice paper), 
Oil for frying, 
Dipping sauce for serving (e.g., sweet chili)
50m
cooking
time
30
number
servings

Recipe Difficulty: Medium
How to Make Traditional Filipino Lumpia
Heat the oil in a pan over medium heat. Add the onion and garlic, sauté until golden.
Add the meat and sauté until it turns brown.
Add the carrot, soy sauce, salt, and pepper. Stir and cook for another 5-7 minutes.
Let the filling cool while you prepare the Lumpia wrappers.
Heat the oil in a deep pan or pot to 180 degrees Celsius.
Take one Lumpia wrapper and place 1-2 tablespoons of filling on it. Fold the wrapper into a roll, starting from one corner. Secure the edges by moistening them with water.
Fry the Lumpia in hot oil until golden on each side, about 3-5 minutes.
Place the cooked Lumpia on paper towels to remove excess oil.
Serve the Lumpia hot with the dipping sauce.
Enjoy your meal!
Nutrition Facts (per serving)
Calories: 150 kcal 
Protein: 6 g 
Fat: 7 g 
Carbohydrates: 15 g 
Fiber: 1 g 
Sugar: 1 g

0

15 Jun