Bread and Butter Pizza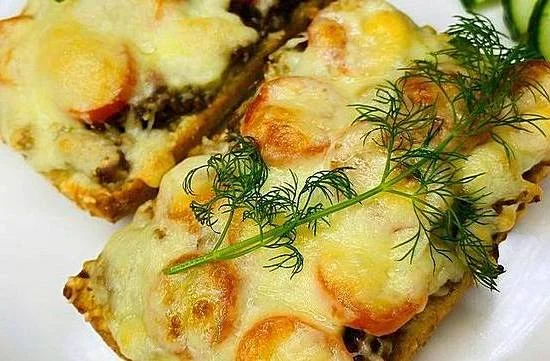 Bread and Butter Pizza is a simple and delicious dish that you can prepare at home. The combination of crispy bread, fragrant garlic butter, melting cheese, and fresh basil creates a perfect taste. It's an ideal option for a quick dinner or a party snack.
Ingredients
1 large loaf of bread (your choice, but Italian bread or a baguette works best), 
2 tablespoons of butter, 
1 clove of garlic, 
1 cup of mozzarella, thinly sliced, 
1/2 cup of Parmesan, grated, 
1/2 cup of fresh basil, 
Salt and pepper to taste
30m
cooking
time
4
number
servings

Recipe Difficulty: Easy
How to Make Bread and Butter Pizza
Preheat your oven to 200 degrees Celsius (392 degrees Fahrenheit).
Slice the bread in half lengthwise and place it on a baking sheet, cut side up.
Melt the butter in a small saucepan over medium heat. Add the garlic and cook until it becomes fragrant, about 1-2 minutes.
Using a basting brush, apply the garlic butter to the bread. Make sure you cover the entire surface evenly.
Distribute the mozzarella over the bread, then sprinkle with Parmesan. Season with salt and pepper to taste.
Bake in the oven for 10-15 minutes, or until the cheese has melted and become golden.
Sprinkle with fresh basil and serve hot.
Enjoy your meal!
Nutrition Facts (per serving)
Calories: 350 kcal 
Protein: 15 g 
Fat: 20 g 
Carbohydrates: 30 g

0

24 Jun