Hawaiian Pizza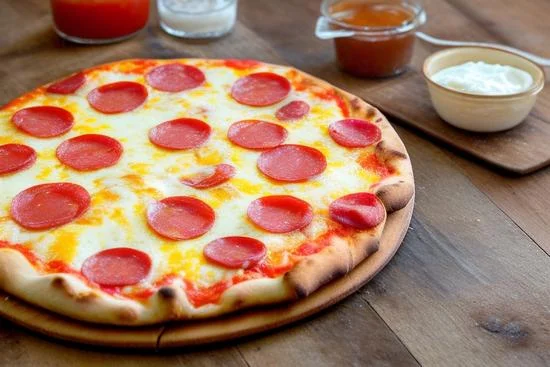 Follow our step-by-step recipe to make delicious Hawaiian pizza right at home. The combination of sweet pineapple, savory ham, and melted mozzarella cheese on a crispy crust creates a perfect balance of flavors. This recipe is easily adaptable to your preferences, adding more or less of each ingredient to taste. Enjoy your meal!
Ingredients
Pizza dough - 1 portion, 
Tomato sauce - 1/2 cup, 
Mozzarella - 2 cups, 
Ham - 1 cup, 
Pineapple (canned or fresh) - 1 cup, 
Green onions - 2 stalks (optional), 
Olive oil - 1 tablespoon
40m
cooking
time
4
number
servings

Recipe Difficulty: Medium
How to Make Hawaiian Pizza
Prepare the dough: If you're using store-bought dough, follow the instructions on the package. If you're making the dough yourself, knead it and let it rise in a warm place.
Prepare the ingredients: Cut the ham and pineapple into small pieces. If you're using green onions, slice them into thin rings.
Assemble the pizza: Roll out the dough into a circle and place it on a baking sheet greased with olive oil. Spread the tomato sauce on the dough, leaving the edges free. Sprinkle half of the mozzarella. Distribute the ham and pineapple over the dough. Sprinkle with the remaining mozzarella.
Cook the pizza: Preheat the oven to 425 degrees Fahrenheit (220 degrees Celsius). Bake the pizza for 15-20 minutes or until the edges are golden and the cheese is melted and slightly browned.
Serving: If you're using green onions, sprinkle them on the cooked pizza before serving. Serve hot.
Enjoy your meal!
Nutrition Facts (per serving)
Calories: 350-400 kcal 
Protein: 15-20 g 
Fat: 10-15 g 
Carbohydrates: 45-50 g
Please note that these values are approximate and can vary depending on the ingredients used and the size of the servings.

0

24 May