Crunchy Ramen Broccoli Slaw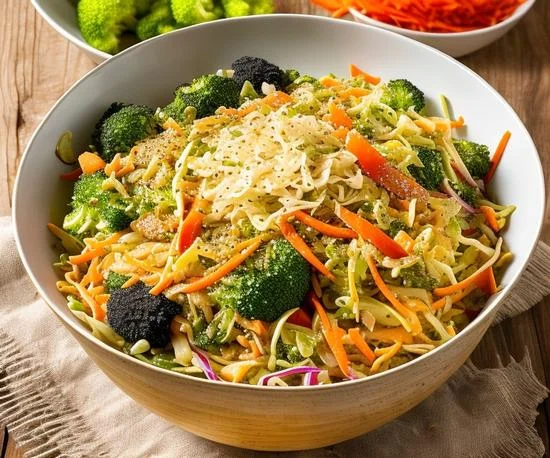 Try this unique and delicious ramen and broccoli slaw. The combination of crunchy ramen, fresh vegetables, and flavorful dressing creates an unforgettable taste. This salad is perfect for a summer picnic or as a light lunch.
Ingredients
2 packets of instant ramen (without seasoning), 
1 head of broccoli, 
1 carrot, 
1 red bell pepper, 
3-4 stalks of green onions, 
1/2 cup of sunflower seeds, 
1/2 cup of sliced almonds
For the dressing:
1/2 cup of olive oil, 
1/4 cup of apple cider vinegar, 
2 tablespoons of soy sauce, 
1 tablespoon of honey, 
Salt and pepper to taste
15m
cooking
time
4
number
servings

Recipe Difficulty: Easy
How to Make Crunchy Ramen Broccoli Slaw
Preparation of ingredients: Break the ramen into small pieces. Cut the broccoli into small florets. Grate the carrot on a coarse grater. Cut the red bell pepper and green onions into thin strips.
Preparation of the dressing: In a small bowl, mix the olive oil, apple cider vinegar, soy sauce, honey, salt, and pepper. Whisk well with a fork or whisk until the ingredients are combined.
Mixing the salad: In a large bowl, mix the broccoli, carrot, red bell pepper, green onions, sunflower seeds, almonds, and ramen pieces. Pour the dressing over and mix well.
Resting the salad: Cover the bowl and place it in the refrigerator for 1-2 hours before serving. This will allow the ingredients to soak up the dressing and become even more flavorful.
Serving: Serve the salad cold. If you wish, you can add a little more fresh green onions or sunflower seeds before serving.
Enjoy your meal!
Nutrition Facts (per serving)
Calories: 350 kcal 
Protein: 8 g 
Fat: 25 g 
Carbohydrates: 28 g 
Fiber: 5 g 
Sugar: 8 g

0

10 Jun