Slow Cooker Tuscan Chicken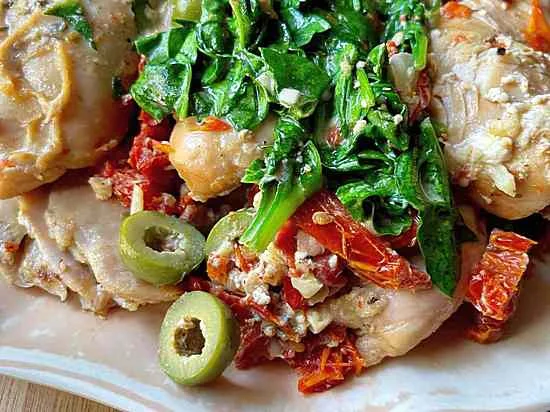 Our delicious and flavorful step-by-step instructions will help you prepare Slow Cooker Tuscan Chicken. With this easy recipe, you'll create a tender dish with juicy chicken, vegetables, and aromatic Tuscan spices. Serve it over a side dish or with pasta for an authentic Italian taste.
Ingredients
4 chicken breasts, cut into pieces, 
1 onion, sliced, 
3 cloves of garlic, minced, 
1 carrot, diced, 
1 stalk of celery, sliced, 
1 red bell pepper, sliced, 
1 can (14 oz) diced tomatoes, 
1 cup chicken broth, 
1/2 cup heavy cream (you can use 10% cream), 
1 teaspoon dried basil, 
1 teaspoon dried oregano, 
Salt and pepper to taste
6h 0m
cooking
time
4
number
servings

Recipe Difficulty: Light
How to Make Slow Cooker Tuscan Chicken
Cooking
Preheat your slow cooker on the medium setting. 
In the slow cooker, combine the sliced chicken breasts, onion, garlic, carrot, celery, and red bell pepper. 
Add the diced tomatoes, chicken broth, and heavy cream. 
Sprinkle with dried basil, dried oregano, salt, and pepper to taste. Stir well to combine all the ingredients. 
Cover the slow cooker with the lid and cook for 6-8 hours on medium heat or 3-4 hours on high heat. 
Before serving, make sure the chicken is fully cooked and tender. If needed, continue cooking for a bit longer. 
Serve the slow-cooked Tuscan chicken with the sauce over a side dish such as pasta or mashed potatoes.
Enjoy your meal!
Nutrition Facts (per serving)
The approximate nutritional value per serving can be as follows:
- Calories: around 300-350 calories 
- Protein: around 25-30 grams 
- Fat: around 10-15 grams 
- Carbohydrates: around 20-25 grams 
- Dietary Fiber: around 5-8 grams
Please note that these values are approximate and can vary based on the exact quantities of ingredients and cooking method used.

0

15 May