Crockpot Italian Chicken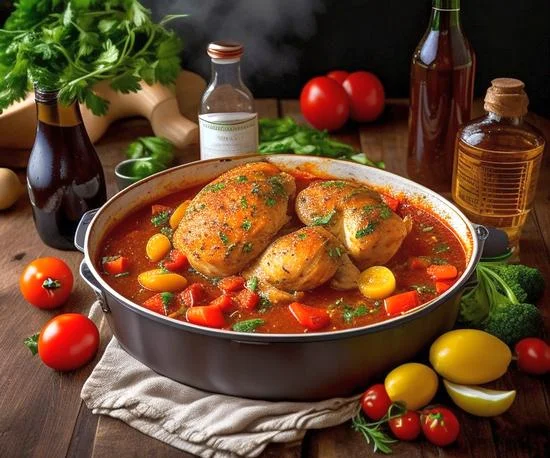 Prepare flavorful Italian chicken at home using a crockpot. This recipe combines tender chicken meat, fresh vegetables, and Italian herbs, all infused with the taste of white wine and tomatoes. Perfect for weekday and weekend dinners.
Ingredients
Chicken breasts - 4 pcs., 
Italian herbs (oregano, basil, rosemary) - 2 teaspoons, 
Garlic - 3 cloves, 
Salt, pepper - to taste, 
Olive oil - 2 tablespoons, 
White wine - 1/2 cup, 
Tomatoes in their own juice - 1 can, 
Onion - 1 pc., 
Carrot - 1 pc., 
Bell pepper - 1 pc.
6h 20m
cooking
time
4
number
servings

Recipe Difficulty: Medium
How to Make Crockpot Italian Chicken
Rinse the chicken breasts and pat dry with paper towels. Salt and pepper on both sides.
Cut the onion, carrot, and bell pepper into small pieces.
Heat the olive oil in the slow cooker and fry the chicken until golden brown on both sides. Remove the chicken and set it aside.
In the same oil, fry the onion until translucent, then add the carrot and bell pepper. Sauté the vegetables until soft.
Add minced garlic and Italian herbs, stir and cook for a couple more minutes.
Add the white wine and let it evaporate a bit, then add the tomatoes in their own juice. Stir all the ingredients.
Return the chicken to the slow cooker, cover with the sauce. Close the lid and cook on low for 6-8 hours or on high for 3-4 hours.
Serve the cooked chicken with the sauce, sprinkled with fresh herbs.
Enjoy your meal!
Nutrition Facts (per serving)
Calories: 350 kcal 
Protein: 30 g 
Fat: 10 g 
Carbohydrates: 20 g 
Dietary Fiber: 4 g 
Sugar: 6 g

0

19 Jun