Homemade Pasta Roni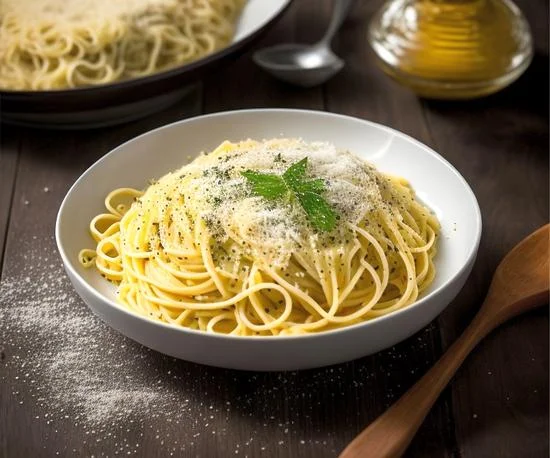 Prepare a homemade version of the beloved dish Pasta Roni with our detailed recipe. This is a simple and tasty dish that is perfect for dinner. Spaghetti seasoned with herbs and Parmesan cheese will surely delight your taste buds.
Ingredients
200g spaghetti, 
2 tablespoons of butter, 
1 small onion, finely chopped, 
2 cloves of garlic, minced, 
1/2 teaspoon of salt, 
1/4 teaspoon of black pepper, 
1/2 teaspoon of dried basil, 
1/2 teaspoon of dried oregano, 
1/4 teaspoon of dried thyme, 
1 tablespoon of flour, 
2 cups of chicken broth, 
1/2 cup of cream, 
1/2 cup of grated Parmesan
30m
cooking
time
4
number
servings

Recipe Difficulty: Easy
How to Make Homemade Pasta Roni
In a large skillet over medium heat, melt the butter. Add the onion and garlic, sauté, stirring, until they become soft and fragrant, about 3-4 minutes.
Add the spaghetti, salt, pepper, basil, oregano, and thyme. Sauté, stirring, until the spaghetti starts to turn golden, about 5 minutes.
Sprinkle the flour over the spaghetti and mix well. Gradually add the chicken broth, constantly stirring to avoid lumps.
Increase the heat to medium-high and bring to a boil. Then reduce the heat to medium and simmer, stirring occasionally, until the spaghetti becomes soft, about 10-12 minutes.
Add the cream and Parmesan, mix well. Cook for another 2-3 minutes, until the cheese melts and the sauce thickens.
Serve hot. If desired, sprinkle with additional Parmesan on top.
Enjoy your meal!
Nutrition Facts (per serving)
Calories: 450 kcal 
Protein: 15 g 
Fat: 25 g 
Carbohydrates: 45 g 
Fiber: 2 g 
Sugar: 3 g

0

23 Jun