Quick Beef Stir-Fry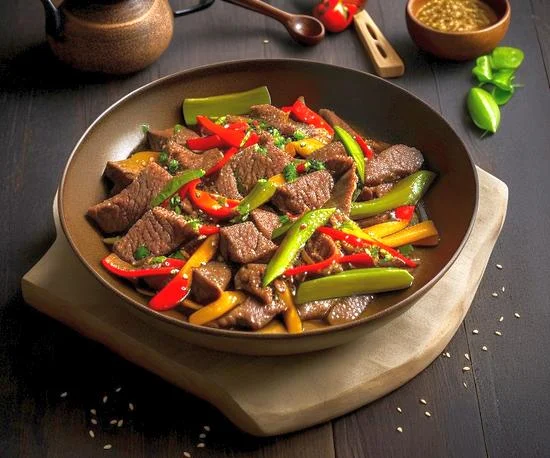 Quick Beef Stir-Fry is a delicious and nutritious dish that can be prepared in just 30 minutes. Beef stir-fried with vegetables in soy and oyster sauces provides a rich taste and a wonderful combination of textures.
Ingredients
500g of beef (a fillet part would be best), 
2 tablespoons of soy sauce, 
1 tablespoon of cornstarch, 
2 tablespoons of vegetable oil, 
2 cloves of garlic, minced, 
1 red bell pepper, thinly sliced, 
1 green bell pepper, thinly sliced, 
1 carrot, thinly sliced, 
1 tablespoon of oyster sauce, 
Salt and pepper to taste
30m
cooking
time
4
number
servings

Recipe Difficulty: Easy
How to Make Quick Beef Stir-Fry
Slice the beef into thin strips. In a bowl, mix the beef, soy sauce, and cornstarch. Stir and let it marinate for 15-20 minutes.
Heat a pan or wok over medium heat. Add the vegetable oil and minced garlic. Sauté the garlic until it turns golden.
Add the marinated beef and stir-fry until it turns brownish. This will take about 2-3 minutes. Remove the beef from the pan and set it aside.
In the same pan, add the sliced peppers and carrot. Stir-fry the vegetables until they become soft but remain crispy.
Return the beef to the pan. Add the oyster sauce, salt, and pepper. Stir and stir-fry for another 1-2 minutes so that all the ingredients are well coated with the sauce.
Serve the finished beef stir-fry hot, garnishing with herbs as desired.
Enjoy your meal!
Nutrition Facts (per serving)
Calories: 350 kcal 
Protein: 25 g 
Fat: 20 g 
Carbohydrates: 10 g 
Fiber: 2 g 
Sugar: 3 g

0

22 Jun