Southern Potato Salad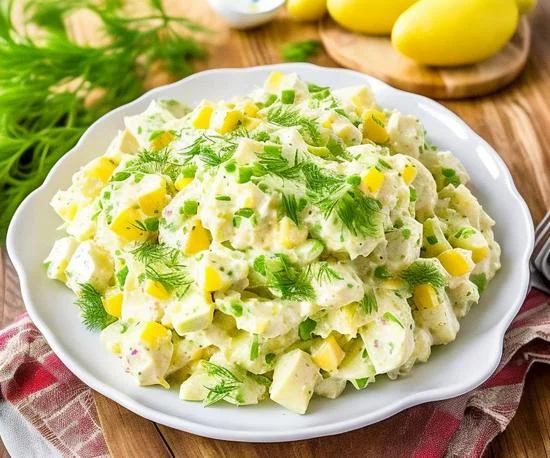 Southern Potato Salad is a classic dish perfect for picnics, barbecues, or just as a tasty side dish. The combination of boiled potatoes, eggs, onions, mayonnaise, and mustard creates a unique flavor that will delight you and your guests.
Ingredients
1 kg of potatoes, 
4 hard-boiled eggs, 
1 large onion, 
2 tablespoons of mustard, 
1/2 cup of mayonnaise, 
1/4 cup of pickles, finely chopped, 
1 teaspoon of salt, 
1/2 teaspoon of black pepper, 
2 tablespoons of dill or green onions, finely chopped
1h 10m
cooking
time
6
number
servings

Recipe Difficulty: Medium
How to Make Southern Potato Salad
In a large pot, boil the potatoes until they're cooked, about 15-20 minutes. The potatoes should be soft but not overcooked. After boiling, let the potatoes cool, then peel and dice them.
While the potatoes are boiling, boil the eggs. After boiling, cool them under cold water, then peel and dice them.
In a large bowl, mix together the mayonnaise, mustard, salt, and pepper. Add the chopped onion and pickles.
Add the diced potatoes and eggs to the bowl. Mix thoroughly so that all the ingredients are evenly coated with the sauce.
Sprinkle the salad with dill or green onions before serving. The salad is best served cold.
Enjoy your meal!
Nutrition Facts (per serving)
Calories: 350 kcal 
Protein: 8 g 
Fat: 20 g 
Carbohydrates: 35 g 
Fiber: 4 g 
Sugar: 3 g

0

19 Jun