Homemade Spaghetti Sauce with Ground Beef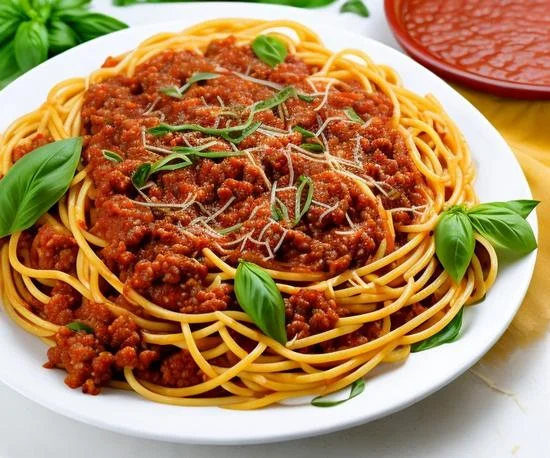 Learn how to make delicious homemade spaghetti sauce with ground beef. Our step-by-step recipe will guide you to create the perfect dish for dinner!
Ingredients
Ground beef - 500 g, 
Spaghetti - 500 g, 
Onion - 1 pc., 
Carrot - 1 pc., 
Garlic - 2 cloves, 
Tomato paste - 2 tbsp., 
Olive oil - 2 tbsp., 
Dry red wine - 100 ml, 
Broth (beef or vegetable) - 500 ml, 
Salt, pepper - to taste, 
Sugar - a pinch, 
Basil, oregano - to taste
1h 0m
cooking
time
4
number
servings

Recipe Difficulty: Medium
How to Make Homemade Spaghetti Sauce with Ground Beef
Dice the onion, grate the carrot on a fine grater, and mince the garlic.
Heat the olive oil in a pan and fry the onion until golden. Add the carrot and garlic, and fry for a couple more minutes.
Add the ground beef to the pan. Fry, stirring, until the beef turns brown.
Add the tomato paste, mix, and fry for a couple more minutes.
Add the wine, let it evaporate a bit, then add the broth, salt, pepper, sugar, basil, and oregano. Stir and bring the sauce to a boil.
Reduce the heat to low, cover the pan, and simmer the sauce for about 30 minutes, stirring occasionally.
In the meantime, cook the spaghetti in a large amount of salted water until al dente according to the instructions on the package.
When the spaghetti is ready, drain the water, add a little olive oil to prevent the spaghetti from sticking together.
Serve the spaghetti with the sauce, sprinkling grated Parmesan on top if desired.
Enjoy your meal!
Nutrition Facts (per serving)
Calories: 600 kcal 
Protein: 30 g 
Fat: 20 g 
Carbohydrates: 70 g
Please note that these values are approximate and can vary depending on the specific ingredients used in the recipe.

0

29 May