Tasty Beef Stir-Fry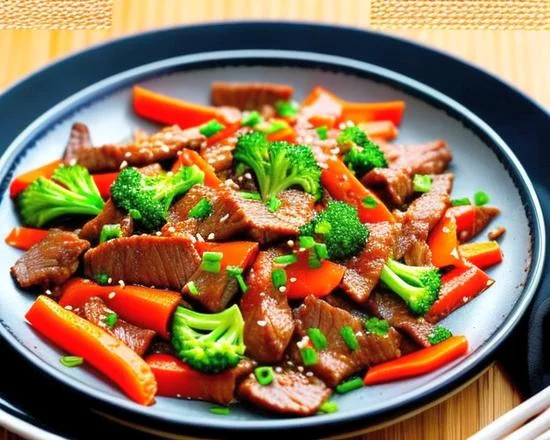 Enjoy a taste of Asian cuisine with this quick and flavorful beef stir-fry. Using simple, fresh ingredients like tender beef, crunchy bell peppers, nutritious broccoli, and a zesty blend of garlic and soy sauce, this dish comes together in under 30 minutes. It's perfect for a busy weeknight dinner but special enough to serve to guests. The vibrant colors and varied textures make this dish not only delicious but also visually appealing. Pair with rice or noodles for a complete, satisfying meal. Discover how easy it is to create this stir-fry at home and savor the delightful symphony of flavors in each bite.
Ingredients
Beef (any tender part) - 500 gr. 
Bell pepper - 2 pcs. 
Broccoli - 200 gr. 
Carrot - 1 pc. 
Garlic - 2 cloves 
Soy sauce - 2 tablespoons 
Cornstarch - 1 tablespoon 
Cooking oil (for example, sesame oil) - 2 tablespoons 
Salt, pepper - to taste
30m
cooking
time
4
number
servings

Recipe Difficulty: Easy
How to Make Tasty Beef Stir-Fry
Slice the beef into thin strips. It's important that all pieces are roughly the same size for even cooking.
In a small bowl, mix together the soy sauce and cornstarch. Add the beef and mix well to ensure the meat is evenly coated. Leave to marinate for 15-20 minutes.
While the meat is marinating, chop the vegetables: slice the pepper, cut the broccoli into small florets, and slice the carrot into thin strips or rounds. Finely chop the garlic.
Heat up a wok or a deep frying pan and add the oil. Add the garlic and quickly fry it until golden, making sure it doesn't burn.
Add the meat and stir-fry on high heat, stirring continuously, until the meat turns brown on all sides. This should take about 3-5 minutes.
Add the vegetables to the wok and continue stir-frying, stirring, until they become tender but remain crispy. This should take about 3-4 minutes.
Taste and add salt and pepper as needed.
Serve the beef stir-fry with rice or noodles.
Enjoy your quick and tasty beef stir-fry!
Nutrition Facts (per serving)
Please note that the exact nutritional values can vary depending on the specific products and their sizes used. Here are the approximate nutritional values per serving for a quick beef stir-fry:
- Calories: 350 
- Protein: 30g 
- Fat: 16g (of which saturates: 4g) 
- Carbohydrates: 20g (of which sugars: 6g) 
- Fiber: 3g 
- Sodium: 600mg
These are just approximate values and they can change depending on the specific ingredients used in your recipe. If you are following a strict diet, it is recommended to use your own nutritional value calculations.

0

20 May