Pork and Chicken Aspic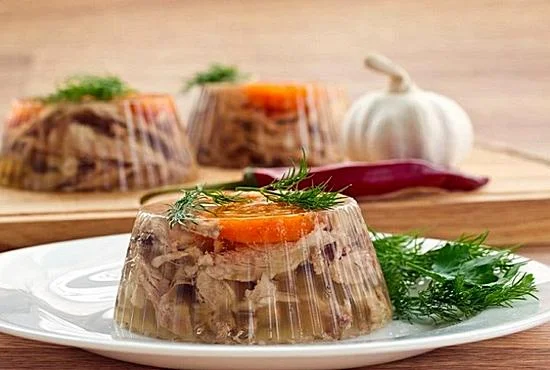 Pork and chicken aspic is a traditional Russian dish served cold. It is slow-cooked, allowing the meat to soak up the flavors and become tender. Perfect for a festive table.
Ingredients
Pork on the bone - 500 g, 
Chicken - 500 g, 
Carrot - 1 pc., 
Onion - 1 pc., 
Garlic - 3-4 cloves, 
Bay leaf - 2-3 pcs., 
Peppercorns - 10 pcs., 
Salt - to taste, 
Gelatin - 20 g (or you can use natural gelatin, which is released when boiling meat on the bone), 
Greens for decoration
10h 0m
cooking
time
8
number
servings

Recipe Difficulty: Medium
How to Make Pork and Chicken Aspic
Preparation of ingredients. Rinse the meat thoroughly, peel the carrot and onion.
Cooking the broth. Put the meat in a large pot, fill it with water so that it completely covers the meat. Bring to a boil, then reduce the heat to a minimum. Cook the meat over low heat for about 2-3 hours. Periodically remove the foam.
Adding vegetables. After 2-3 hours, add carrot, onion, bay leaf, peppercorns, and salt to the broth. Cook for another 1-2 hours.
Preparation of gelatin. If you are using gelatin, soak it in a small amount of water 30 minutes before the end of cooking and let it swell.
Straining the broth. When the meat is ready, remove it from the broth and separate it from the bones. Strain the broth through cheesecloth or a fine sieve.
Adding gelatin. If you are using gelatin, add it to the hot broth and stir well until it is completely dissolved.
Forming the aspic. Cut the meat into small pieces and distribute it into aspic molds. Add minced garlic and greens. Pour the hot broth over the meat.
Cooling the aspic. Put the aspic molds in the refrigerator for 5-6 hours or overnight to set completely.
Serving. Before serving, the aspic can be turned out onto a plate and decorated with greens.
Enjoy your meal!
Please note that aspic is a dish that requires time to prepare. Don't rush, let the broth steep well and the meat soak up the flavors. This guarantees a great taste of the finished dish.
Nutrition Facts (per serving)
Calories: 250 kcal 
Proteins: 20 g 
Fats: 15 g 
Carbohydrates: 5 g

0

22 Jun