Japanese Gyoza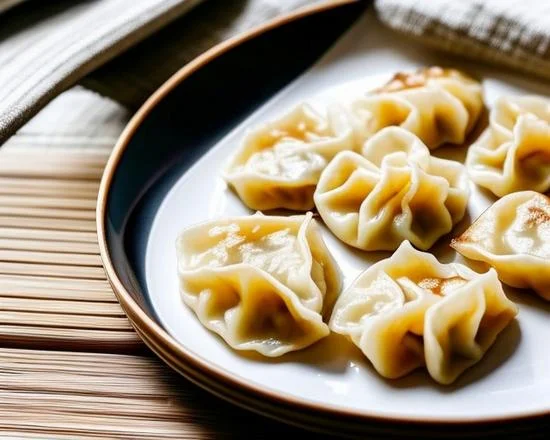 This detailed recipe will guide you through making authentic Japanese Gyoza right at home. Fresh ingredients, simple steps, and a bit of patience will reward you with delicious homemade dumplings, perfect for dinner or as a party appetizer.
Ingredients
200g of pork, 
200g of chicken, 
100g of cabbage, 
2 cloves of garlic, 
1 teaspoon of ginger, 
2 tablespoons of soy sauce, 
1 tablespoon of sake, 
1 teaspoon of sugar, 
1 teaspoon of salt, 
1/2 teaspoon of black pepper, 
50 Gyoza wrappers, 
2 tablespoons of vegetable oil, 
1/2 cup of water
1h 0m
cooking
time
6
number
servings

Recipe Difficulty: Medium
How to Make Japanese Gyoza
Cut the pork and chicken into small pieces. 
Mince the cabbage, garlic, and ginger. 
In a large bowl, mix the meat, cabbage, garlic, ginger, soy sauce, sake, sugar, salt, and pepper. 
Take one Gyoza wrapper, put a small amount of filling on it, and carefully seal the edges, forming the Gyoza. 
Repeat the process with the rest of the wrappers and filling. 
Heat the vegetable oil in a pan with a thick bottom. 
Place the Gyoza in the pan and fry over medium heat until golden brown. 
Add water, cover with a lid, and simmer on low heat until all the water has evaporated. 
Serve the Gyoza hot with soy sauce.
Nutrition Facts (per serving)
The nutritional value per serving of Gyoza (assuming the recipe makes about 50 Gyoza, and one serving is roughly 8-10 Gyoza) might be as follows:
- Calories: 200-250 
- Protein: 8-10g 
- Fat: 10-12g 
- Carbohydrates: 20-22g
Please note that these values can vary depending on the exact size of the Gyoza and the ingredients used.

0

22 May