Gyoza Sauce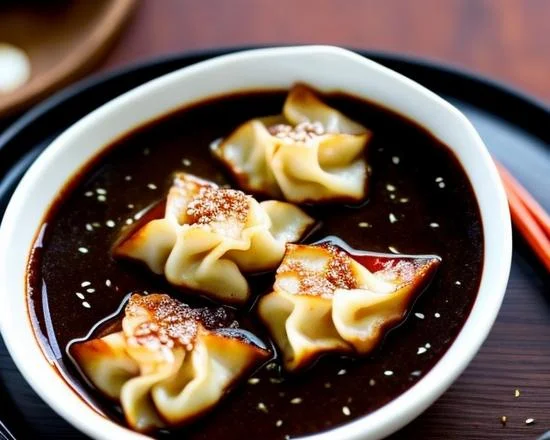 Learn how to make authentic Gyoza Sauce right at home with this simple recipe. With soy sauce, rice vinegar, garlic, and sesame oil, this sauce will add depth of flavor and aroma to your dumplings.
Ingredients
1/2 cup of soy sauce, 
1/4 cup of rice vinegar, 
1 teaspoon of sugar, 
1 clove of garlic, minced, 
1 teaspoon of sesame oil, 
1/2 teaspoon of red pepper flakes (optional)
10m
cooking
time
4
number
servings

Recipe Difficulty: Easy
How to Make Gyoza Sauce
In a small saucepan, combine the soy sauce, rice vinegar, and sugar. Set over medium heat and warm, stirring until the sugar is fully dissolved. 
Remove the saucepan from the heat and add the minced garlic and sesame oil. If you want to add some heat, add the red pepper flakes. 
Stir all the ingredients together and let the sauce cool down. Once cooled, the sauce is ready to use.
Nutrition Facts (per serving)
Nutritional value per serving:
- Calories: 50 
- Fat: 2g 
- Saturated Fat: 0g 
- Sodium: 1020mg 
- Carbohydrates: 5g 
- Sugar: 2g 
- Protein: 3g
Please note that these values can vary depending on the specific products you use.

0

21 May