Tabaka Chicken Thighs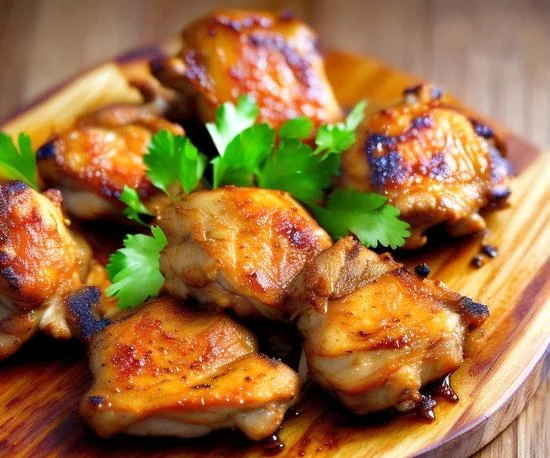 Prepare flavorful and juicy Tabaka-style chicken thighs with our step-by-step recipe. This simple and delicious dish will be a great addition to your table.
Ingredients
Chicken thighs - 4 pieces, 
Salt - to taste, 
Ground black pepper - to taste, 
Garlic - 3 cloves, 
Bay leaf - 2 pieces, 
Vegetable oil - for frying
40m
cooking
time
2
number
servings

Recipe Difficulty: Easy
How to Make Tabaka Chicken Thighs
Preparation of ingredients. Prepare all the necessary ingredients. Rinse the chicken thighs thoroughly and pat dry with paper towels.
Seasoning the chicken. Salt and pepper the thighs on both sides. Peel the garlic and press it, then rub the meat with it.
Frying the chicken. Heat the vegetable oil in a pan. When it is hot enough, put the thighs in with the skin side down. Place a bay leaf on top.
Preparing the "press". To give the thighs a "Tabaka" shape, they need to be pressed with something heavy. You can use a hot cast-iron press, but if you don't have one, a regular plate with water or another pan on top will do.
Frying. Fry the thighs under the press over medium heat for about 10-15 minutes, then carefully turn them over and fry for another 10-15 minutes on the other side.
Serving the dish. Serve the ready "Tabaka" chicken thighs hot. They go well with any side dishes or vegetable salads.
Enjoy your meal!
Nutrition Facts (per serving)
Calories: 350 kcal 
Protein: 25 g 
Fat: 25 g 
Carbohydrates: 0 g

0

06 Jun