Cottage Cheese Rolls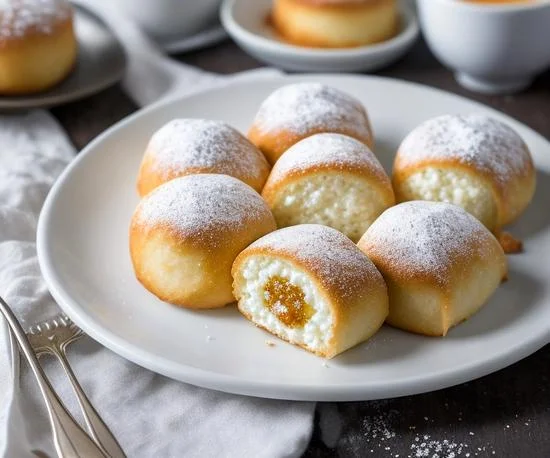 Try making delicious and fragrant cottage cheese rolls with our homemade recipe. It's a perfect treat for morning tea or coffee!
Ingredients
Cottage cheese - 500 g, 
Sugar - 100 g, 
Eggs - 2 pcs., 
Flour - 200 g, 
Baking powder - 1 tsp., 
Vanilla sugar - 1 packet, 
Salt - a pinch, 
Jam or preserves for filling - 200 g, 
Powdered sugar for dusting
45m
cooking
time
6
number
servings

Recipe Difficulty: Easy
How to Make Cottage Cheese Rolls
Preparing the dough: In a large bowl, combine the cottage cheese, sugar, eggs, vanilla sugar, and salt. Mix well until smooth.
Adding flour: Gradually add the flour and baking powder, continuing to mix thoroughly. The dough should be soft and tender, but not sticky to the touch.
Rolling out the dough: Dust your work surface with flour and roll out the dough into a rectangle about 1 cm thick.
Filling: Spread the jam or preserves evenly over the entire surface of the dough.
Forming the rolls: Roll the dough into a log, starting from the long side. Then cut the log into rolls about 2 cm wide.
Baking: Place the rolls on a baking sheet lined with parchment paper and bake in a preheated 180-degree oven for about 20-25 minutes, or until golden brown.
Serving: Dust the finished cottage cheese rolls with powdered sugar before serving.
Enjoy your meal!
Nutrition Facts (per serving)
Calories: 350 kcal 
Proteins: 14 g 
Fats: 10 g 
Carbohydrates: 50 g

0

07 Jun