Noodle Pie with Cheese and Egg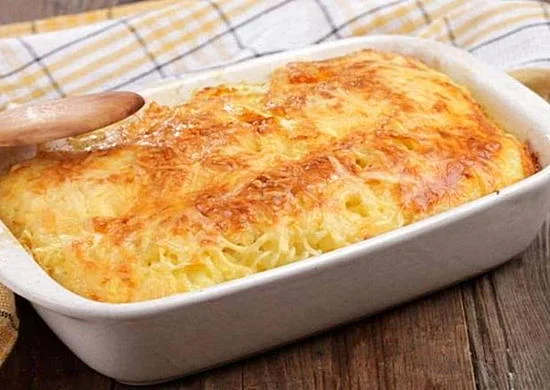 This recipe for noodle pie with cheese and egg is a perfect choice for dinner or lunch. Easy to prepare, it's sure to delight you and your loved ones with its taste.
Ingredients
Noodles - 300 g,  
Cheese - 100 g, 
Eggs - 3 pcs., 
Milk - 1 cup, 
Butter - 50 g, 
Salt - to taste, 
Pepper - to taste
1h 0m
cooking
time
6
number
servings

Recipe Difficulty: Light
How to Make Noodle Pie with Cheese and Egg
Preparing the noodles: In a large pot, bring water to a boil, add salt. When the water boils, add the noodles and cook until done. Drain the water and set the noodles aside.
Preparing the filling: Grate the cheese. Beat the eggs together with the milk, add salt and pepper to taste. Add the grated cheese to the egg and milk mixture and mix well.
Assembling the noodle pie: In a deep baking dish, place half of the prepared noodles. Then evenly distribute half of the cheese and egg mixture. Repeat the layers, starting with the noodles and ending with the cheese and egg mixture.
Baking: Preheat the oven to 180 degrees Celsius. Place the dish in the oven and bake for 30-40 minutes, or until the top becomes golden.
Serving: Allow the noodle pie to cool slightly before serving. Cut into portions and serve hot.
Enjoy your meal!
Nutrition Facts (per serving)
Calories: 350 kcal 
Proteins: 15 g 
Fats: 20 g 
Carbohydrates: 30 g

0

12 Jun