Lavash Triangles with Cottage Cheese, Cheese, and Herbs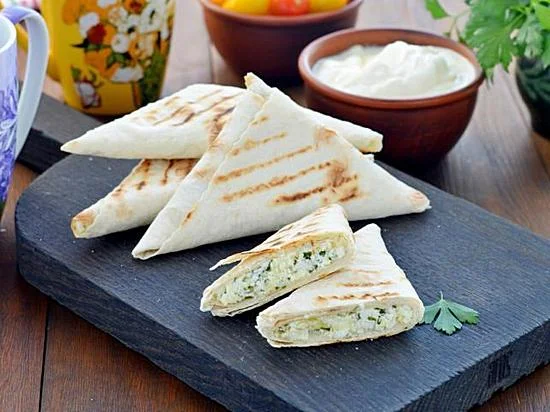 We present to your attention a step-by-step recipe for lavash triangles with cottage cheese, cheese, and herbs. This is an ideal option for a light breakfast or snack that can be prepared in just a few minutes.
Ingredients
Lavash (Armenian flatbread) - 2 pieces, 
Cottage cheese - 200 g, 
Hard cheese - 100 g, 
Herbs (dill, parsley) - to taste, 
Salt, pepper - to taste
15m
cooking
time
4
number
servings

Recipe Difficulty: Easy
How to Make Lavash Triangles with Cottage Cheese, Cheese, and Herbs
Start by preparing the filling. In a bowl, combine the cottage cheese, grated hard cheese, and finely chopped herbs. Season with salt and pepper to taste and mix well.
Cut the lavash into squares approximately 10x10 cm in size.
On each square of lavash, place 1-2 tablespoons of the prepared filling.
Fold the lavash squares with the filling in the form of a triangle, carefully tucking in the edges so that the filling does not fall out.
Heat a frying pan and fry the triangles on both sides until golden brown. If you wish, you can add a little oil to the pan.
Serve the triangles while they're hot. They pair wonderfully with fresh vegetables or a sauce of your choice.
Enjoy your meal!
Nutrition Facts (per serving)
Calories: 250 kcal 
Protein: 12 g 
Fat: 10 g 
Carbohydrates: 28 g

0

06 Jun