Chocolate Candies with Puffed Rice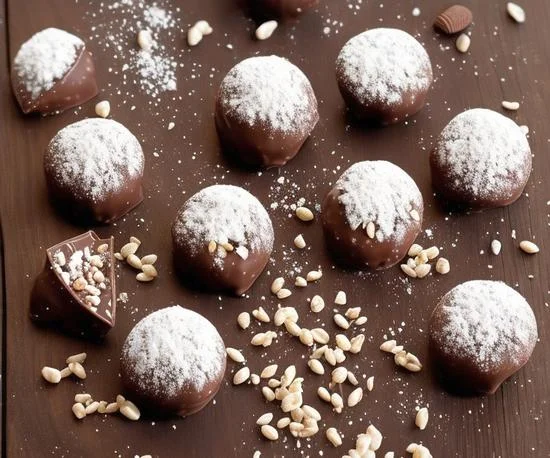 Prepare delicious and crunchy chocolate candies with puffed rice right at home. This simple recipe is sure to delight you and your loved ones!
Ingredients
Puffed rice - 40 grams, 
Dark chocolate - 200 grams, 
Butter - 50 grams, 
Powdered sugar (optional) - 2 tablespoons
2h 20m
cooking
time
24
number
servings

Recipe Difficulty: Easy
How to Make Chocolate Candies with Puffed Rice
Start by chopping the chocolate into small pieces and put it in a bowl.
Add the butter to the bowl. Place the bowl over a water bath and let the chocolate and butter melt completely, stirring occasionally.
When the chocolate is completely melted, add the puffed rice to it. Mix thoroughly so that the rice is evenly coated with chocolate.
Take a candy mold or ice cube tray and fill each hole with the resulting mixture. If you don't have a special mold, you can use any other mold, for example, a muffin tin.
Put the mold in the refrigerator for 2-3 hours so that the candies solidify completely.
When the candies have solidified, remove them from the mold. If you want, you can sprinkle them with powdered sugar on top for extra flavor and a beautiful appearance.
That's it, your chocolate candies with puffed rice are ready! Enjoy this delicious dessert with your loved ones.
Nutrition Facts (per serving)
Calories: 150 kcal 
Protein: 2 g 
Fat: 8 g 
Carbohydrates: 18 g

0

05 Jun