Baked Mackerel with Tomatoes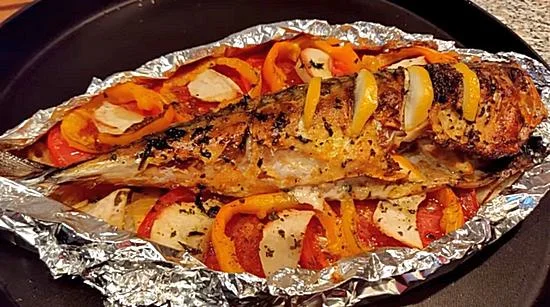 Prepare a flavorful and juicy baked mackerel with tomatoes. This simple recipe is perfect for a warm summer evening dinner.
Ingredients
Mackerel - 2 pcs., 
Tomatoes - 3-4 pcs., 
Onion - 1 pc., 
Garlic - 2-3 cloves, 
Lemon - 1 pc., 
Olive oil - 2 tbsp., 
Salt, pepper - to taste, 
Herbs (dill, parsley) - to taste
50m
cooking
time
4
number
servings

Recipe Difficulty: Easy
How to Make Baked Mackerel with Tomatoes
Preparation of ingredients: Clean the mackerel from scales, innards, and head. Slice the tomatoes and onion into rings, mince the garlic, and slice the lemon into thin rounds.
Preparing the fish: Salt and pepper the mackerel inside and out. Inside each fish, place a clove of garlic and a few lemon slices.
Assembling the dish: In a deep baking dish greased with olive oil, lay a layer of onions, then a layer of tomatoes. On top, place the prepared mackerel. Distribute the remaining tomatoes and onions around the fish.
Baking: Bake in a preheated oven at 180 degrees Celsius (356 degrees Fahrenheit) for about 30-40 minutes.
Serving: Before serving, sprinkle the dish with fresh herbs. Your baked mackerel with tomatoes is ready!
Enjoy your meal!
Nutrition Facts (per serving)
Calories: 350 kcal 
Proteins: 25 g 
Fats: 20 g 
Carbohydrates: 10 g

0

08 Jun