Simple Broiled Haddock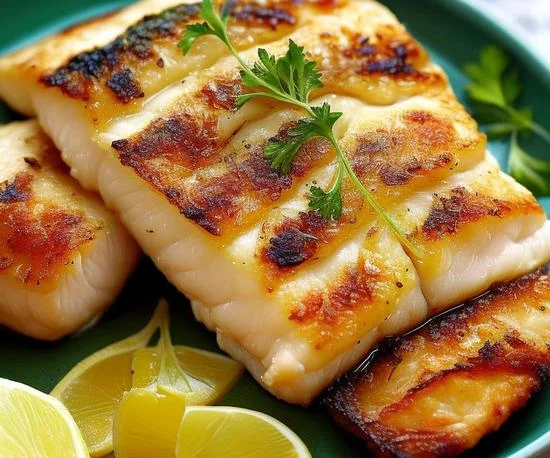 Learn how to prepare simple broiled haddock with our detailed step-by-step recipe. This is a healthy and delicious dish, perfect for dinner, and it's ready in just 30 minutes.
Ingredients
Haddock - 4 fillets (about 500 g), 
Lemon - 1 piece, 
Olive oil - 2 tbsp, 
Salt - to taste, 
Ground black pepper - to taste, 
Parsley - for serving
30m
cooking
time
4
number
servings

Recipe Difficulty: Easy
How to Make Simple Broiled Haddock
Preparation of ingredients: Preheat your oven to 200 degrees Celsius (about 392 degrees Fahrenheit). Clean the haddock fillets, rinse them, and pat them dry with paper towels. Slice the lemon into thin rounds.
Preparing the haddock: Place the haddock fillets on a baking tray lined with parchment paper. Drizzle each side with olive oil, and season with salt and pepper to taste. Place a round of lemon on each fillet.
Broiling: Broil the haddock in the preheated oven for 15-20 minutes, or until the fish is tender and easily flakes apart.
Serving: Serve the broiled haddock hot, garnished with fresh parsley. This dish pairs well with light vegetables or potatoes.
Enjoy your meal!
Nutrition Facts (per serving)
Calories: 150 kcal 
Protein: 22 g 
Fat: 5 g 
Carbohydrates: 1 g 
Sodium: 350 mg 
Fiber: 0 g 
Sugar: 0 g
Please note that these values are approximate and can vary depending on the serving size and specific ingredients used in the recipe.

0

02 Jun