Beef Kharcho Soup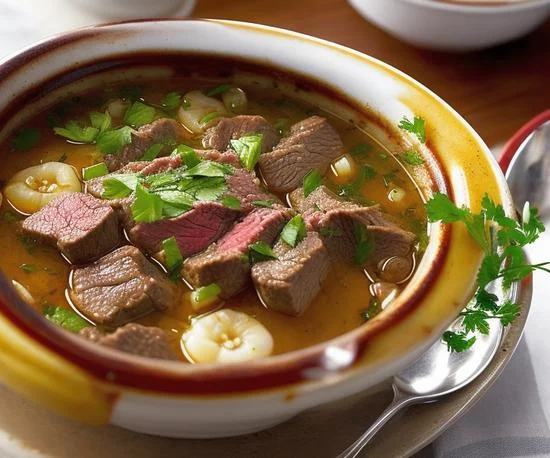 Prepare a flavorful and hearty Georgian beef kharcho soup with our step-by-step recipe. This soup with rice and spices will be a real highlight of your table!
Ingredients
Beef - 500 g, 
Rice - 100 g, 
Onion - 2 pcs., 
Carrot - 1 pc., 
Garlic - 3 cloves, 
Tomato paste - 2 tbsp., 
Utskho-suneli (Georgian spice mix) - 1 tsp., 
Black pepper - to taste, 
Salt - to taste, 
Greens (parsley, dill) - to taste, 
Water - 2 l
2h 0m
cooking
time
6
number
servings

Recipe Difficulty: Medium
How to Make Beef Kharcho Soup
Preparation of ingredients. Cut the beef into small pieces. Peel and chop the onion and carrot: finely chop the onion, coarsely chop the carrot. Press the garlic through a garlic press.
Preparation of the broth. Put the beef in a pot, add water and put on the fire. Cook over low heat for about 1.5 hours. Periodically remove the foam.
Preparation of the fry. Fry the onion in a pan until golden, then add the carrot. Fry the vegetables until soft, then add the tomato paste and continue frying for another 5 minutes.
Assembly of the soup. When the meat is ready, add rice to the broth and cook for 10 minutes. Then add the fry, utskho-suneli, salt, and pepper. Cook for another 10 minutes.
Final touch. Add pressed garlic and chopped greens to the soup. Stir and remove from heat. Serve the kharcho soup hot.
Enjoy your meal!
Nutrition Facts (per serving)
Calories: 350 kcal 
Proteins: 20 g 
Fats: 15 g 
Carbohydrates: 25 g

0

06 Jun