Grilled Scallops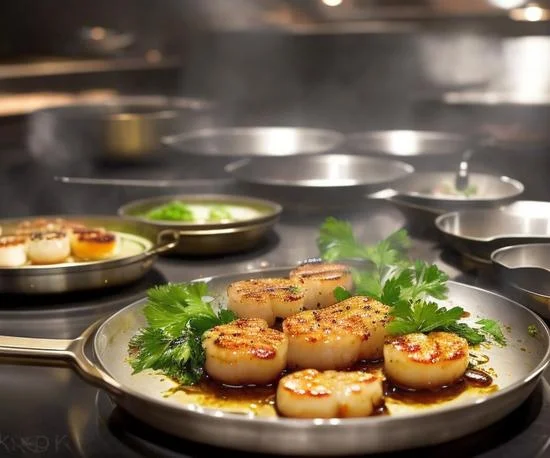 This recipe for grilled scallops with garlic and lemon is the perfect dinner dish. Easy to prepare and incredibly tasty!
Ingredients
Scallops - 12 pieces, 
Butter - 2 tablespoons, 
Garlic - 2 cloves, 
Lemon - 1 piece, 
Salt - to taste, 
Black pepper - to taste, 
Parsley - for garnish
20m
cooking
time
4
number
servings

Recipe Difficulty: Light
How to Make Grilled Scallops
Preparation of scallops: If you're using frozen scallops, thaw them in the refrigerator overnight. If the scallops are fresh, simply rinse them under cold water and pat dry with paper towels.
Cooking the scallops: Season the scallops on both sides with salt and pepper. Heat a pan over medium heat and add the butter. Once the butter starts to sizzle, add the scallops to the pan. Sear them for 2-3 minutes on each side, until golden brown.
Adding garlic: Add the minced garlic to the pan and cook for another 1-2 minutes, stirring constantly to prevent the garlic from burning.
Adding lemon: Remove the pan from the heat and squeeze the juice from the lemon directly onto the scallops. Stir to ensure the scallops are evenly coated with the juice.
Serving: Serve the scallops hot, sprinkled with fresh parsley. They pair excellently with white wine and fresh baguette.
Enjoy your meal!
Nutrition Facts (per serving)
Calories: 200 kcal 
Protein: 14 g 
Fat: 10 g 
Carbohydrates: 5 g

0

04 Jun