Traditional British Fish Cakes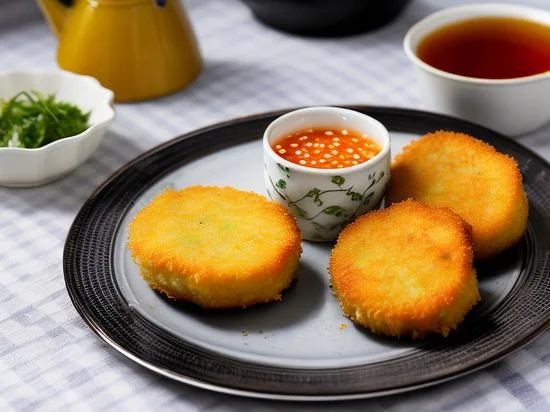 Prepare delicious and hearty traditional British fish cakes with our detailed step-by-step recipe. This recipe includes simple ingredients and clear instructions that will help you create the perfect dish for lunch or dinner.
Ingredients
500g white fish fillet (such as cod or haddock), 
500g potatoes, 
2 tbsp butter, 
2 tbsp mayonnaise, 
1 tbsp mustard, 
1 tbsp lemon juice, 
2 tbsp chopped dill, 
Salt and pepper to taste, 
100g flour, 
2 eggs, 
200g breadcrumbs, 
Oil for frying
1h 0m
cooking
time
4
number
servings

Recipe Difficulty: Medium
How to Make Traditional British Fish Cakes
Preparing the potatoes: Peel the potatoes and boil them in salted water until done. Then mash them into a puree, adding the butter. Let it cool.
Preparing the fish: Steam or boil the fish fillet in salted water until done. Then break the fish into small pieces.
Mixing the ingredients: In a large bowl, mix the mashed potatoes, fish, mayonnaise, mustard, lemon juice, and dill. Season with salt and pepper to taste. Mix all the ingredients thoroughly.
Forming the cakes: Form cakes from the resulting mixture. It's convenient to do this with wet hands.
Breading: Roll each cake first in flour, then in beaten eggs, and finally in breadcrumbs.
Frying: Heat the oil in a pan and fry the cakes on both sides until golden brown.
Serving: Serve the fish cakes hot, with lemon and tartar sauce.
Enjoy your meal!
Nutrition Facts (per serving)
Calories: 350 kcal 
Protein: 25 g 
Fat: 15 g 
Carbohydrates: 30 g
Please note that these values are approximate and may vary depending on the exact ingredients and their quantities that you use.

0

25 May