Buffalo Chicken Wing Sauce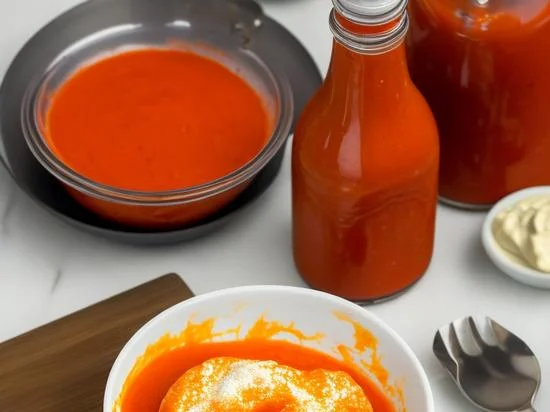 Discover how to make spicy and flavorful Buffalo Chicken Wing Sauce with our step-by-step recipe. This guide will help you easily and quickly prepare this popular American sauce at home. Perfect for marinating chicken or as a dipping sauce.
Ingredients
2/3 cup of hot sauce (e.g., Frank's RedHot), 
1/2 cup of unsalted butter, 
1 1/2 tablespoons of white vinegar, 
1/4 teaspoon of Worcestershire sauce, 
1/4 teaspoon of garlic powder, 
Salt to taste
15m
cooking
time
1
number
servings

Recipe Difficulty: Light
How to Make Buffalo Chicken Wing Sauce
In a medium saucepan, combine the hot sauce, butter, vinegar, Worcestershire sauce, garlic powder, and salt.
Bring the mixture to a boil over medium heat, stirring constantly to ensure the ingredients blend well together.
Once the sauce starts to boil, reduce the heat to low and simmer for another 5-10 minutes until the sauce thickens.
Remove the saucepan from the heat and let the sauce cool. It will thicken more as it cools.
Use the sauce to marinate chicken wings before frying or as a dipping sauce.
Enjoy your meal!
Nutrition Facts (per serving)
Calories: 70 
Fat: 7g 
Saturated Fat: 4.5g 
Sodium: 410mg 
Carbohydrates: 1g 
Sugar: 0g 
Protein: 0g
Please note that these values can vary depending on the specific products you use.

0

26 May