Kung Pao Chicken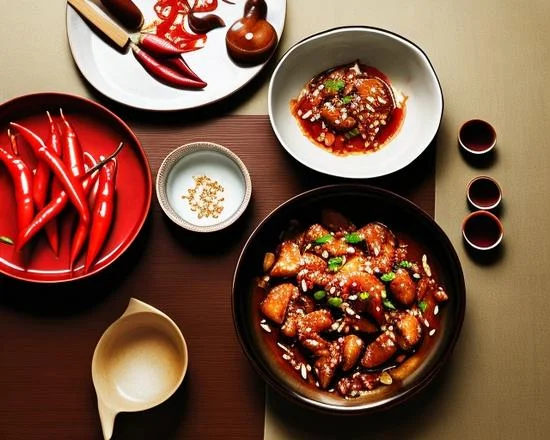 Detailed step-by-step recipe for Kung Pao Chicken, a classic Chinese dish. This recipe features chicken, peanuts, dried red chilies, and a special Kung Pao sauce. Perfect for dinner or a gathering with friends.
Ingredients
500g chicken breast, 
1 tablespoon soy sauce, 
2 teaspoons cornstarch, 
2 tablespoons vegetable oil, 
8 dried red chilies, 
1 teaspoon sesame seeds, 
1/2 cup peanuts, 
3 cloves garlic, 
1 teaspoon grated ginger, 
1 tablespoon rice vinegar, 
1 tablespoon sugar, 
2 tablespoons soy sauce, 
1 teaspoon cornstarch, 
2 tablespoons water
30m
cooking
time
4
number
servings

Recipe Difficulty: Medium
How to Make Kung Pao Chicken
Cut the chicken breast into small pieces. In a bowl, mix 1 tablespoon of soy sauce and 2 teaspoons of cornstarch, add the chicken and mix well. Leave for 15-20 minutes to marinate. 
In a large frying pan or wok, heat the vegetable oil. Add the dried red chilies and fry them until they darken. Then add the chicken and fry until it turns white. 
Add peanuts, minced garlic, and grated ginger. Fry for another 2-3 minutes. 
In a separate bowl, mix rice vinegar, sugar, 2 tablespoons of soy sauce, 1 teaspoon of cornstarch, and 2 tablespoons of water. This will be the Kung Pao sauce. 
Add the sauce to the pan and fry until the sauce thickens. 
Sprinkle the dish with sesame seeds before serving.
Nutrition Facts (per serving)
- Calories: 375 kcal 
- Protein: 28 g 
- Fat: 24 g 
- Carbohydrates: 12 g
Please note that these values can vary depending on the specific ingredients used in the recipe.

0

22 May