Classic Gazpacho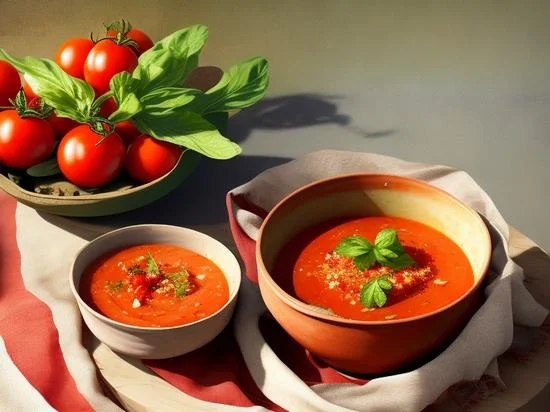 This recipe features classic Gazpacho - a traditional Spanish cold soup that's perfect for the summer months. Made from fresh tomatoes, cucumber, bell pepper, onion, and garlic, this soup is a delicious and healthy dish that can be served as an appetizer or main course.
Ingredients
6 ripe tomatoes, 
1 cucumber, 
1 small bell pepper, 
1 small onion, 
2 cloves of garlic, 
2 tablespoons of olive oil, 
1 tablespoon of white wine vinegar, 
Salt and pepper to taste, 
Bread crumbs or white bread (optional)
15m
cooking
time
6
number
servings

Recipe Difficulty: Light
How to Make Classic Gazpacho
Chop the tomatoes, cucumber, bell pepper, onion, and garlic into large pieces. 
Place all the vegetables in a blender or food processor. 
Add the olive oil, white wine vinegar, salt, and pepper. 
Blend everything until smooth. If the soup is too thick, you can add a little water or bread crumbs/white bread. 
Pour the gazpacho into a bowl and refrigerate for 2-3 hours before serving.
Enjoy!
Nutrition Facts (per serving)
Calories: Approximately 110 
Protein: Approximately 2g 
Fat: Approximately 7g (1g of saturated fat) 
Carbohydrates: Approximately 10g (3g of dietary fiber, 6g of sugar) 
Sodium: Approximately 10mg
Please note that these values can vary depending on the serving size and the specific ingredients you use.

0

25 May