Classic Philadelphia Cheesecake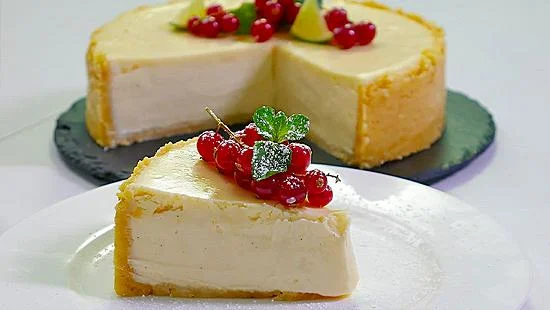 Discover the step-by-step guide to creating a classic Philadelphia Cheesecake. Indulge in the exquisite dessert made with a buttery cookie crust and creamy cream cheese filling, offering a perfect balance of tenderness and a unique flavor. Learn how to master this culinary delight and treat yourself and your loved ones to this exquisite delicacy.
Ingredients
200g cookies (such as Oreos or graham crackers), 
100g melted butter, 
500g cream cheese (such as Philadelphia), 
200g sugar, 
1 teaspoon vanilla extract, 
4 eggs, 
200g sour cream or yogurt
1h 10m
cooking
time
8
number
servings

Recipe Difficulty: Medium
How to Make Classic Philadelphia Cheesecake
Step 1: Preparing the crust
Crush the cookies into crumbs using a blender or by placing them in a bag and rolling over them with a rolling pin. 
Combine the cookie crumbs with melted butter and mix well. 
Press the mixture evenly into the bottom of a springform pan. Place the pan in the refrigerator to let the crust set.
Step 2: Making the filling
In a large bowl, mix cream cheese, sugar, and vanilla extract until smooth. 
Add the eggs one at a time, beating well after each addition. 
Finally, add the sour cream or yogurt and mix until well combined.
Step 3: Baking
Preheat the oven to 160 degrees Celsius (320 degrees Fahrenheit). 
Remove the pan from the refrigerator and pour the filling over the crust. 
Smooth the surface with the back of a spoon or a silicone spatula. 
Place the pan on a baking sheet and place it in the preheated oven. 
Bake the cheesecake for about 50-60 minutes or until the edges are set and the center is slightly jiggly. 
Turn off the oven and leave the cheesecake inside for an additional hour to cool gradually. 
Remove the cheesecake from the oven and refrigerate it overnight (or for at least 4 hours) to allow it to fully set.
Step 4: Decorating and serving
Before serving, decorate the cheesecake as desired. You can dust the surface with a thin layer of cocoa powder, top it with fresh berries, or drizzle with a glaze. 
Carefully release the sides of the springform pan and transfer the cheesecake to a serving plate. 
Serve the cheesecake chilled, slicing it into pieces and enjoying its delicious flavor.
Enjoy your cheesecake!
Nutrition Facts (per serving)
The nutritional values of a Philadelphia Cheesecake can vary depending on the specific recipe and ingredients used. However, on average, per serving (based on 8 servings), you can expect approximately the following values:
- Calories: around 450-550 kcal 
- Protein: around 7-10 g 
- Fat: around 30-40 g 
- Carbohydrates: around 35-45 g 
- Sugar: around 25-30 g 
- Sodium content, vitamins, and minerals may vary depending on the specific ingredients used.
Please note that these values are approximate and can vary depending on the recipe and portion sizes. It is recommended to refer to the specific recipe or calculate the nutritional values based on the ingredients used for more accurate information.

0

13 May