Crispy Parmesan-Crusted Roasted Brussels Sprouts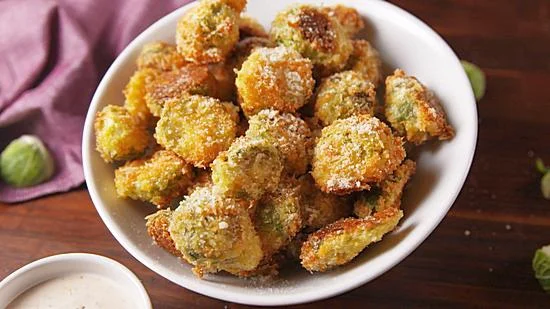 Prepare delicious crispy Parmesan-crusted roasted Brussels sprouts with this detailed step-by-step recipe. This dish is perfect as a side or a standalone meal. The Brussels sprouts are roasted to a golden, crispy exterior, while the Parmesan crust adds a rich aroma and flavor. With this recipe, you can easily create a delightful and healthy dish to impress your family and guests.
Ingredients
500g Brussels sprouts, 
1/4 cup olive oil, 
1/2 cup grated Parmesan cheese, 
1/2 cup breadcrumbs (you can use panko breadcrumbs), 
1 teaspoon garlic powder, 
1/2 teaspoon salt, 
1/4 teaspoon black pepper
30m
cooking
time
4
number
servings

Recipe Difficulty: Light
How to Make Crispy Parmesan-Crusted Roasted Brussels Sprouts
Step 1: Prepare the Ingredients
Preheat the oven to 200 degrees Celsius (400 degrees Fahrenheit). 
Trim the outer leaves of the Brussels sprouts and cut off the stems. 
Cut each Brussels sprout in half. 
Place the Brussels sprouts in a large bowl.
Step 2: Prepare the Coating
In a small bowl, combine the grated Parmesan cheese, breadcrumbs, garlic powder, salt, and black pepper. Mix well. 
Add the olive oil to the bowl of Brussels sprouts and toss to coat each sprout evenly with oil. 
Sprinkle the coating mixture evenly over the Brussels sprouts and toss to ensure each half is coated.
Step 3: Roast the Brussels Sprouts
Spread the Brussels sprouts evenly on a baking sheet lined with parchment paper. 
Place the baking sheet in the preheated oven and roast the Brussels sprouts for 20-25 minutes until they turn golden brown and crispy. 
Flip the sprouts a few times during cooking to ensure even roasting.
Step 4: Serve
Once the Brussels sprouts are golden and crispy, remove them from the oven. 
Transfer the roasted Brussels sprouts to a serving plate or platter. 
Optionally, sprinkle some additional grated Parmesan cheese on top for extra flavor. 
Serve the crispy Parmesan-crusted roasted Brussels sprouts hot and enjoy!
This recipe makes a delicious side dish or a standalone dish. The Brussels sprouts will be flavorful with a golden, crispy Parmesan crust that adds a unique taste. Give it a try and enjoy this tasty and healthy dish!
Nutrition Facts (per serving)
The nutritional values of the dish may vary depending on the exact quantities and quality of the ingredients used. However, here is an approximate estimation of the nutritional values per serving (assuming the recipe yields 4 servings):
Calories: around 200-250 kcal 
Protein: around 8-10 grams 
Fat: around 10-12 grams 
Carbohydrates: around 20-25 grams 
Fiber: around 5-7 grams
Please note that these values are approximate and actual nutritional values may slightly vary based on specific ingredients and cooking methods.

0

17 May