Classic Olivier Salad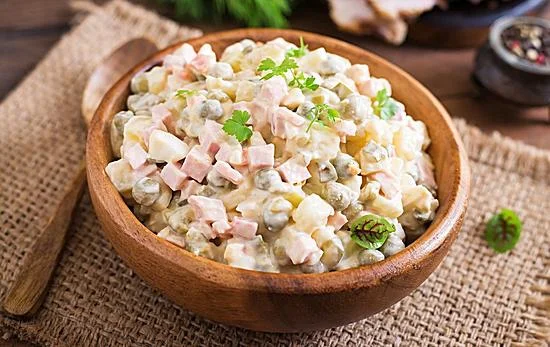 Looking for a detailed step-by-step recipe for the classic Olivier Salad? We offer you a simple and clear guide that will help you prepare this popular salad. By following our steps, you will create a delicious and appetizing dish that can be served on any festive table or enjoyed for dinner with family and friends.
Ingredients
3 large potatoes, 
3 carrots, 
3 eggs, 
1 cup frozen peas, 
5-6 pickles (marinated cucumbers), 
1 cup cooked chicken or ham (diced), 
1 small onion (finely chopped), 
1 cup mayonnaise, 
Salt and pepper to taste
1h 0m
cooking
time
8
number
servings

Recipe Difficulty: Medium
How to Make Classic Olivier Salad
Step 1: Prepare the ingredients
Boil the potatoes and carrots in their skins until cooked. Let them cool, then peel and dice into small cubes. 
Boil the eggs until hard-boiled. Once cooled, peel and chop them into small pieces. 
Boil the frozen peas until tender, then drain them. 
Finely chop the pickles (marinated cucumbers) and onion. 
If using chicken, cook it separately in lightly salted water until done. Let it cool, then dice into small cubes. If using ham, dice it into small cubes.
Step 2: Mix the ingredients
In a large mixing bowl, combine the potatoes, carrots, eggs, peas, pickles, onion, and chicken or ham.
Mix well to evenly distribute the ingredients.
Step 3: Seasoning
Add mayonnaise to the salad gradually, and gently mix until all the ingredients are coated. The amount of mayonnaise can be adjusted according to your preference. Usually, about 1 cup is used. 
Season with salt and pepper to taste. You can also add a pinch of sugar for a slightly sweeter taste if desired.
Step 4: Serving
Transfer the Olivier salad to a serving dish. 
If desired, garnish the salad with parsley, cucumber slices, or red caviar.
Your classic Olivier Salad is now ready to be served! You can serve it immediately or refrigerate it before serving. Enjoy your meal!
Nutrition Facts (per serving)
The nutritional values of Olivier Salad can vary depending on the specific recipe and ingredients used. Here are approximate values for one serving (about 200g) of classic Olivier Salad:
- Calories: around 300-350 kcal 
- Protein: approximately 10-15g 
- Fat: around 20-25g 
- Carbohydrates: around 20-25g 
- Vitamin C: about 10-15mg 
- Calcium: around 50-100mg 
- Iron: about 1-2mg
Please note that these values are approximate and may slightly vary depending on the specific ingredients and proportions used in your recipe.

0

18 May