Waldorf Salad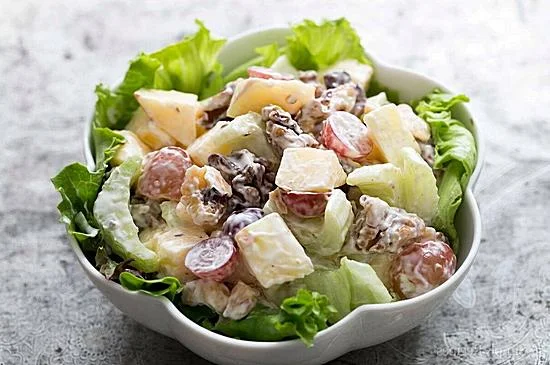 Make a delicious and refreshing Waldorf Salad with this simple step by step recipe. Juicy apples, crunchy celery, fragrant walnuts and sweet raisins combine with mayonnaise and lemon juice to create the perfect balance of flavors. This salad is great as an appetizer or a light main course.
Ingredients
2 apples, 
1 stalk of celery, 
1 cup walnuts, 
1/2 cup raisins, 
1/2 cup mayonnaise, 
Juice of half a lemon, 
Salt and pepper to taste, 
Salad leaves for serving (optional)
20m
cooking
time
4
number
servings

Recipe Difficulty: Low
How to Make Waldorf Salad
Preparation of ingredients:
Wash the apples, remove the skin, and cut them into cubes or thin half-moons. 
Wash the celery, remove any tough strings, and slice it into thin half-moons or small sticks. 
Roughly chop or lightly crush the walnuts. 
Rinse and dry the raisins.
Mixing:
In a large bowl, combine the sliced apples, celery, walnuts, and raisins. 
Add mayonnaise and lemon juice. 
Mix all the ingredients well, ensuring they are evenly coated with the dressing. 
Season with salt and pepper to taste.
Serving:
Transfer the Waldorf Salad to a plate or serve it on a bed of salad leaves for an aesthetic presentation. 
If desired, garnish with apple slices or additional walnuts on top.
Your Waldorf Salad is ready! Enjoy!
Nutrition Facts (per serving)
The nutritional values of Waldorf Salad can vary depending on the specific recipe and ingredients used. However, as a general guideline, here is an approximate nutritional value per serving (approximately 1/4 of the recipe):
- Calories: around 250-300 calories 
- Protein: around 4-6 grams 
- Fat: around 20-25 grams 
- Carbohydrates: around 15-20 grams
Please note that these are estimated values and the actual nutritional content may vary depending on the specific ingredients and proportions used in your recipe.

0

13 May