Pizza with Pesto Sauce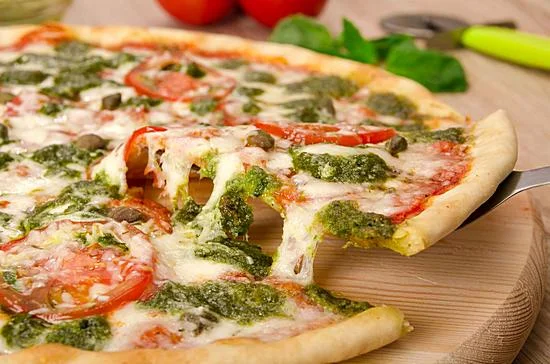 Learn how to make a delicious pizza with pesto sauce using this step-by-step recipe. From preparing the dough to creating the homemade pesto sauce and assembling the toppings, follow along to create a flavorful pizza. Find the complete list of ingredients needed to make this mouthwatering pizza with pesto sauce.
Ingredients
Pizza dough: Make your own using flour, yeast, water, salt, and olive oil, or purchase pre-made dough. 
Pesto sauce: You can make homemade pesto sauce using fresh basil leaves, nuts (pine nuts or walnuts), garlic, Parmesan cheese, and olive oil. Alternatively, you can buy ready-made pesto sauce from the store. 
Toppings: Choose your favorite toppings, such as: 

Sliced tomatoes, 
Mozzarella cheese (shredded or sliced), 
Spinach leaves, 
Fresh basil leaves, 
Sliced olives (black or green), 
Cooked chicken pieces or ham, 
Additional seasonings or herbs (optional) 
Feel free to customize the toppings based on your preferences and availability.
40m
cooking
time
4
number
servings

Recipe Difficulty: Medium
How to Make Pizza with Pesto Sauce
Step 1: Prepare the pizza dough
Make your favorite pizza dough from scratch using a recipe or purchase pre-made dough from the store.
Step 2: Preheat the oven
Preheat your oven to 220°C (425°F).
Step 3: Shape the dough
Roll out the dough on a floured surface to your desired shape, whether it's a circle or rectangle.
Step 4: Prepare the pesto sauce
For homemade pesto sauce: 

In a blender or food processor, combine 2 cups of fresh basil leaves, 1/2 cup of nuts (such as pine nuts or walnuts), 2-3 cloves of garlic, and 1/2 cup of grated Parmesan cheese. 
Blend the ingredients while gradually adding 1/2 cup of olive oil until the sauce becomes smooth and well-blended. Adjust the consistency and taste by adding more oil or nuts if needed. 

If you prefer, you can use store-bought pesto sauce.
Step 5: Spread the pesto sauce on the dough
Evenly spread the pesto sauce onto the rolled-out dough, leaving a small border around the edges for the crust.
Step 6: Add toppings
Add your favorite toppings to the pizza, such as sliced tomatoes, mozzarella cheese, spinach, fresh basil leaves, sliced olives, chicken pieces, or ham.
Step 7: Bake the pizza
Place the pizza on a baking sheet or pizza stone that has been lined with parchment paper or lightly dusted with flour or cornmeal. 
Place the baking sheet with the pizza in the preheated oven and bake for about 12-15 minutes, or until the crust is golden and crispy, and the cheese is melted and slightly browned.
Step 8: Let the pizza cool and serve
Remove the pizza from the oven and let it cool for a few minutes on the baking sheet. 
Once slightly cooled, slice the pizza and serve.
Enjoy your delicious pizza with pesto sauce!
Nutrition Facts (per serving)
The nutritional value of pizza with pesto sauce can vary depending on the specific recipe and ingredients used. However, as a general guideline, here is an approximate nutritional value per serving (based on typical ingredients):
- Calories: around 250-350 kcal 
- Protein: around 10-15 grams 
- Fat: around 10-15 grams 
- Carbohydrates: around 30-40 grams 
- Sugar: around 2-5 grams 
- Fiber: around 2-4 grams
Please note that these values are approximate and can vary depending on the recipe and ingredients you choose for your pizza with pesto sauce. It is recommended to check the labels of the ingredients you use and use a nutritional calculator for more accurate results.

0

14 May