Cranberry-Pumpkin Cookies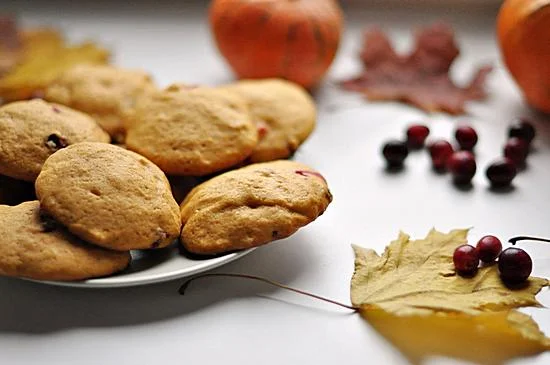 Indulge in the delicious and aromatic flavors of cranberry-pumpkin cookies with this detailed step-by-step recipe. Learn how to prepare a tender dough using fresh pumpkin puree and juicy cranberries, and then bake the cookies until they turn golden brown. Experience true culinary delight with this delightful treat.
Ingredients
300g pumpkin (peeled and cut into chunks), 
200g unsalted butter (softened), 
200g brown sugar, 
100g white sugar, 
2 eggs, 
1 teaspoon vanilla extract, 
350g all-purpose flour, 
1 teaspoon baking powder, 
1/2 teaspoon baking soda, 
1/2 teaspoon salt, 
1/2 teaspoon cinnamon, 
1/4 teaspoon ground ginger, 
150g dried cranberries or raisins
40m
cooking
time
24
number
servings

Recipe Difficulty: Medium
How to Make Cranberry-Pumpkin Cookies
Step 1: Prepare the pumpkin puree.
Peel and cut 300 g of pumpkin into chunks. 
Place the pumpkin in a saucepan, add a little water, and cook over medium heat for about 15 minutes until the pumpkin becomes soft. 
Drain the water and mash the pumpkin into a puree using an immersion blender or a fork.
Step 2: Prepare the cookie dough.
In a large bowl, mix 200 g of softened butter, 200 g of brown sugar, and 100 g of white sugar until well combined. 
Add 2 eggs and beat until smooth. 
Stir in 1 teaspoon of vanilla extract and 150 g of pumpkin puree until thoroughly mixed.
Step 3: Combine the dry ingredients.
In a separate bowl, mix 350 g of flour, 1 teaspoon of baking powder, 1/2 teaspoon of baking soda, 1/2 teaspoon of salt, 1/2 teaspoon of cinnamon, and 1/4 teaspoon of ground ginger.
Step 4: Incorporate the dry and wet ingredients.
Gradually add the dry mixture to the pumpkin-butter mixture, stirring until a homogeneous dough forms. 
Add 150 g of dried cranberries or raisins and gently mix them into the dough.
Step 5: Bake the cookies.
Preheat the oven to 180°C (350°F). 
Shape the dough into small balls, about the size of a walnut, and place them on a baking sheet lined with parchment paper. Leave about 5 cm (2 inches) of space between each ball. 
Press down lightly on each ball with your fingers to flatten it. 
Bake the cookies in the preheated oven for approximately 12-15 minutes until they turn golden brown around the edges.
Step 6: Let the cookies cool and enjoy!
Carefully transfer the cookies to a wire rack to cool completely. 
Once cooled, the cookies are ready to be enjoyed. 
Indulge in their moist and flavorful taste!
Enjoy your cranberry-pumpkin cookies!
Nutrition Facts (per serving)
The nutritional values of cranberry-pumpkin cookies can vary depending on the specific recipe and ingredients used. Generally, for an average-sized cookie serving (approximately 30g), the approximate nutritional values are:
- Calories: around 120-150 kcal
- Protein: around 1-2g
- Fat: around 5-8g
- Carbohydrates: around 17-22g
- Sugar: around 10-15g
These values are approximate and may vary depending on the specific recipe and ingredients used. It is recommended to refer to the specific recipe and the products you use to get a more accurate nutritional value.

0

16 May