Raspberry Yogurt Smoothie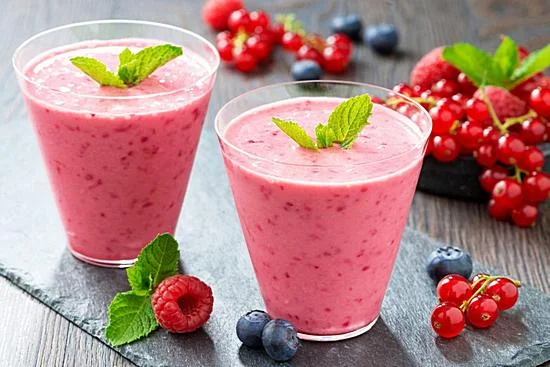 Learn how to make a delicious and refreshing raspberry yogurt smoothie with this detailed recipe. In just a few minutes, you'll have a creamy and fruity beverage that combines the goodness of frozen raspberries, yogurt, and a touch of sweetness. This easy-to-follow guide will walk you through each step, from gathering the ingredients to blending it all together. Enjoy a nutritious and flavorful smoothie that is perfect for any time of the day!
Ingredients
1 cup frozen raspberries, 
1/2 cup yogurt (you can choose regular or Greek yogurt), 
1/2 cup liquid (you can use milk, mineral water, or juice), 
1 tablespoon honey or other sweetener to taste (optional)
7m
cooking
time
1
number
servings

Recipe Difficulty: Light
How to Make Raspberry Yogurt Smoothie
Step 1: Prepare the smoothie.
Place the frozen raspberries, yogurt, and liquid in a blender. 
If you want to add sweetener, include it in the blender as well. 
Cover the blender with the lid and blend on medium speed. 
The blender should run for about 1-2 minutes until the smoothie becomes smooth and uniform. 
Taste and add sweetener if you desire more sweetness.
Step 2: Serve and enjoy.
Pour the smoothie into glasses or cups. 
If desired, you can garnish the smoothie with fresh raspberry berries or mint. 
The raspberry yogurt smoothie is ready to be served! Enjoy this refreshing beverage.
Enjoy your meal!
Nutrition Facts (per serving)
The nutritional value of a raspberry yogurt smoothie can vary depending on the specific ingredients and proportions used. Here are approximate values for one serving (assuming regular yogurt and milk):
- Calories: around 150-200 calories 
- Protein: around 8-10 grams 
- Fat: around 2-4 grams 
- Carbohydrates: around 25-30 grams 
- Vitamin C: approximately 20-30% of the recommended daily intake
Please note that these are approximate values, and the nutritional content can vary based on the specific ingredients and quantities used, as well as any added sweeteners or other ingredients. It is recommended to use individual product information for the ingredients you use to get more accurate nutritional values.

0

14 May