"Leaf Fall" Salad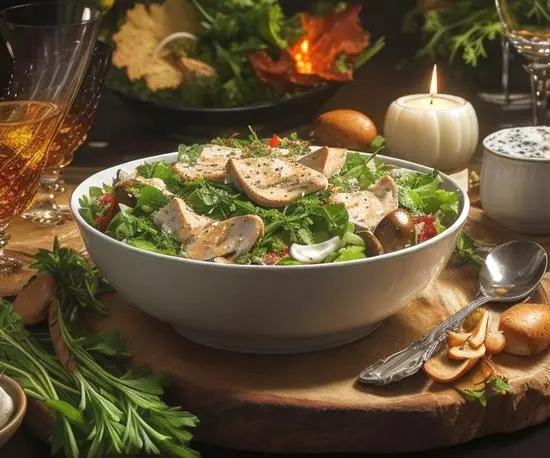 The "Leaf Fall" salad is a delicious and beautiful dish, perfect for a festive table. The combination of chicken, mushrooms, hard cheese, and mayonnaise makes it incredibly flavorful and satisfying. Decorated with fresh herbs, this salad will not only delight your guests with its taste but will also be a decoration for the table.
Ingredients
Chicken fillet - 300 g, 
Eggs - 3 pcs., 
Mushrooms (champignons) - 200 g, 
Onion - 1 pc., 
Mayonnaise - 200 g, 
Hard cheese - 150 g, 
Salt, pepper - to taste, 
Greens (dill, parsley) - for decoration
40m
cooking
time
6
number
servings

Recipe Difficulty: Medium
How to Make "Leaf Fall" Salad
Boil the chicken fillet in salted water until cooked, then cool and cut into small pieces.
Boil the eggs hard, cool, peel and cut into small cubes.
Cut the mushrooms and onions into small pieces and fry in a pan with vegetable oil until golden brown.
In a deep bowl, mix the chicken fillet, eggs, mushrooms with onions. Salt and pepper to taste.
Add mayonnaise and mix all the ingredients thoroughly.
Grate the cheese and add it to the salad. Mix all the ingredients again.
Put the salad in a salad bowl, decorate with greens and put in the refrigerator for 1-2 hours before serving.
The "Leaf Fall" salad is ready! Bon Appetit!
Nutrition Facts (per serving)
Calories: 350 kcal 
Proteins: 20 g 
Fats: 25 g 
Carbohydrates: 10 g

0

26 Aug