Creamy White Sauce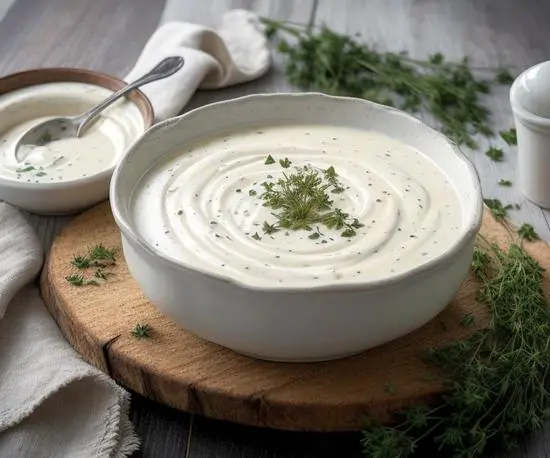 Creamy White Sauce is a delicate and creamy sauce that's perfect for pasta, vegetables, meat, or fish. Made from fresh cream, butter, and spices, this sauce adds a refined taste to any dish. It's quick and easy to prepare, making it an ideal choice for everyday meals or special occasions. Add minced garlic or herbs for an extra kick of flavor.
Ingredients
Heavy cream (33-35%) - 200 ml., 
Butter - 50 g., 
All-purpose flour - 2 tbsp., 
Salt - to taste., 
Ground black pepper - to taste., 
Nutmeg (optional) - a pinch.
15m
cooking
time
4
number
servings

Recipe Difficulty: Easy
How to Make Creamy White Sauce
Preparation of Ingredients. Measure out the required amount of cream, butter, and flour. Prepare the spices.
Melting the Butter. In a medium-sized pan or saucepan, melt the butter over medium heat.
Adding the Flour. Once the butter has melted, add the flour and whisk thoroughly to ensure there are no lumps. Cook on low heat for 1-2 minutes until the flour takes on a golden hue.
Pouring in the Cream. Slowly pour in the cream, continuously whisking. Continue to cook the sauce on low heat until it thickens, which might take about 5 minutes.
Adding the Spices. Add salt, pepper, and nutmeg (if using). Mix well.
Checking for Readiness. The sauce should be smooth and creamy. If it's too thick, you can add a bit more cream or milk to thin it to your desired consistency.
Serving. Serve the sauce hot immediately. It's perfect for pasta, vegetables, meat, or fish.
Tips:
For variety, you can add minced garlic or onions, herbs (thyme, basil, rosemary), or cheese (parmesan, gruyère) to the sauce. 
If you have leftover sauce, you can store it in the refrigerator in an airtight container for up to 3 days. Before reusing, reheat on low heat, adding a bit of cream or milk if needed.
Enjoy your meal!
Nutrition Facts (per serving)
Calories: 250 kcal 
Protein: 2 g 
Fats: 25 g 
Carbohydrates: 6 g 
Saturated Fats: 15 g 
Sugar: 2 g

0

23 Aug