Tarkhun with Carbonated Water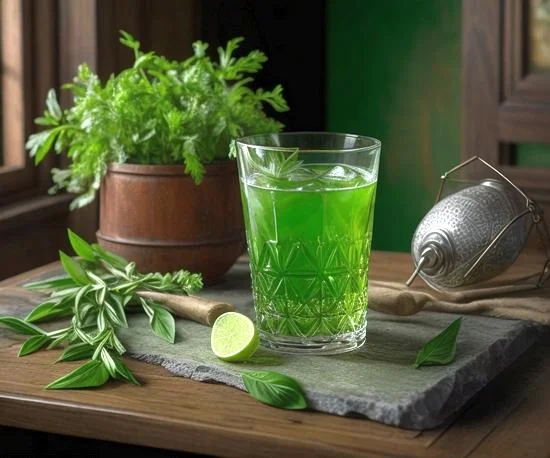 Tarkhun is a refreshing Georgian drink made from fresh or dried tarragon leaves. This recipe includes detailed instructions on preparing a tarragon syrup, which is then mixed with carbonated water to create a unique and refreshing beverage. Perfect for a hot summer day!
Ingredients
Fresh tarragon leaves - 100 g, 
Sugar - 200 g, 
Water - 1 L, 
Citric acid - 1 tsp., 
Carbonated water - 1 L
4h 30m
cooking
time
6
number
servings

Recipe Difficulty: Light
How to Make Tarkhun with Carbonated Water
Preparation of ingredients. Gather fresh tarragon leaves, making sure they are clean and undamaged. If you are using dried tarragon, you will need less - about 50 g.
Syrup preparation. Pour 1 liter of water into a saucepan, add sugar and citric acid. Put it on the fire and bring it to a boil, stirring constantly so that the sugar completely dissolves.
Adding tarragon. When the syrup starts to boil, add the tarragon leaves. Reduce the heat to a minimum and cook the syrup with tarragon for 15-20 minutes.
Infusion of the syrup. After cooking, remove the syrup from the heat and let it infuse for 3-4 hours so that the tarragon leaves can impart their flavor and color to the syrup.
Filtering the syrup. After infusing, strain the syrup through a fine sieve or cheesecloth to remove the tarragon leaves.
Preparation of the drink. Pour carbonated water into a large bottle or jug, then slowly add the syrup. Mix the drink and cool it in the refrigerator before serving.
Serving. Serve tarkhun cold, you can add ice. Enjoy this refreshing drink!
Please note that the proportions of the ingredients can be adjusted depending on your preferences. If you want the drink to be sweeter, add more sugar. If you prefer a more sour taste, add more citric acid.
Nutrition Facts (per serving)
Calories: 150 kcal 
Protein: 0 g 
Fat: 0 g 
Carbohydrates: 38 g 
Fiber: 0 g 
Sugar: 37 g

0

05 Aug