Korean Cold Cucumber Soup (Oi Naengguk)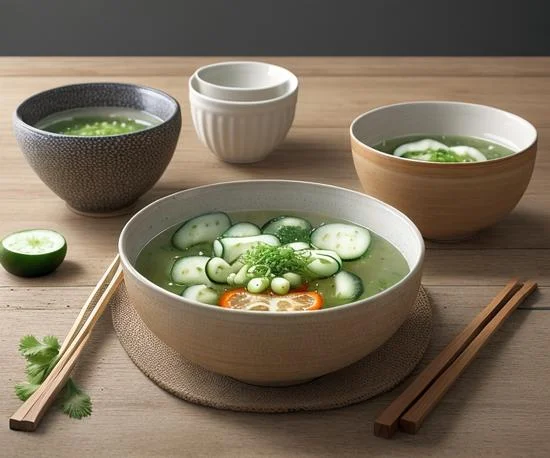 Refreshing and tasty, the Korean cold cucumber soup, known as Oi Naengguk, is the perfect dish for a hot summer day. The soup is made from fresh cucumbers marinated in a vinegar, soy, and sesame oil sauce and served cold. Not only is this dish delicious, but it's also healthy as cucumbers are packed with vitamins and minerals. Try this unique Korean recipe!
Ingredients
2 large cucumbers, 
1 teaspoon of salt, 
2 tablespoons of vinegar, 
2 tablespoons of sugar, 
1 tablespoon of soy sauce, 
1 teaspoon of sesame oil, 
1 clove of garlic, minced, 
2 tablespoons of chopped green onions, 
1/2 teaspoon of ground red pepper (optional), 
1 liter of cold water, 
Ice (optional), 
Sesame seeds for garnish
30m
cooking
time
4
number
servings

Recipe Difficulty: Easy
How to Make Korean Cold Cucumber Soup (Oi Naengguk)
Slice the cucumbers into thin round slices. Salt them and leave them for 10-15 minutes to let them release their juice.
In a large bowl, mix together the vinegar, sugar, soy sauce, sesame oil, and minced garlic. This will be your marinade.
Add the chopped green onions and ground red pepper to the marinade. If you don't like spicy, you can skip the red pepper.
Squeeze the cucumbers to remove excess juice and add them to the marinade. Stir well to ensure the cucumbers are evenly coated with the marinade.
Add the cold water and stir. If you want, add ice for extra coolness.
Before serving, sprinkle the soup with sesame seeds.
Enjoy your meal! This soup is perfect for a hot summer day.
Nutrition Facts (per serving)
Calories: 60 kcal 
Protein: 2 g 
Fat: 1 g 
Carbohydrates: 10 g 
Fiber: 1 g 
Sugar: 6 g

0

13 Jul