Old-Fashioned Lemonade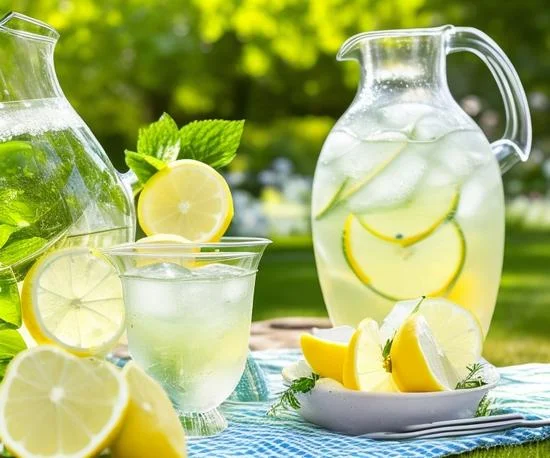 Old-fashioned lemonade is a refreshing beverage perfect for a hot summer day. This recipe involves making a sugar syrup, squeezing fresh lemons, and diluting the juice with cold water. Serve with ice and lemon for the perfect summer treat!
Ingredients
1 cup of sugar (or to taste), 
1 cup of water (for the syrup), 
1 cup of freshly squeezed lemon juice (about 6-8 medium lemons), 
3-4 cups of cold water (to dilute), 
Ice,  
Lemon slices for garnish
40m
cooking
time
6
number
servings

Recipe Difficulty: Light
How to Make Old-Fashioned Lemonade
Make the sugar syrup. In a small saucepan, combine sugar and 1 cup of water. Bring to a boil and cook until the sugar is fully dissolved. Then, let the syrup cool.
Squeeze the lemons. Squeeze the juice out of the lemons to make 1 cup of juice. If you want your lemonade to be less tart, you can add less juice.
Mix the syrup and lemon juice. In a large pitcher, mix together the cooled sugar syrup and the lemon juice.
Add water. Add 3-4 cups of cold water, depending on how strong you want the lemonade. Taste and add more water if needed.
Serve with ice and lemon. Add plenty of ice and garnish with lemon slices. Serve cold and enjoy!
This recipe can easily be adapted by adding other fruits or herbs, such as strawberries, mint, or basil, to create different variations of lemonade.
Nutrition Facts (per serving)
Calories: 120 kcal 
Protein: 0 g 
Fat: 0 g 
Carbohydrates: 32 g (mostly from sugar) 
Vitamin C: 25% of the recommended daily value

0

24 Jun